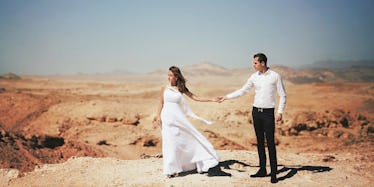 This Quiz Will Tell You What Type Of Dream Wedding You Should Have
Shutterstock
Walking down the aisle is a major milestone.
If you're like most ladies, you've probably been dreaming about this day ever since you were a little girl.
But every gal knows the real fun begins once you start planning your special day.
Yep, there's nothing more exciting than bringing all your wedding reveries to life by preparing for the day you say, "I do."
However, every bride-to-be knows choosing the perfect way to tie the knot isn't always an easy task.
From bohemian weddings on white, sandy beaches and rustic barnyard ceremonies in the countryside to whimsical woodland weddings, there are all sorts of dreamy ideas that can make the decision of picking a theme pretty difficult.
If that's not enough pressure, you also have to make sure every detail -- from flowers and decor to your dress, invitations and table settings  -- is perfectly aligned.
Yeah, sounds pretty overwhelming.
If you're not sure where to even start, don't worry: We've got you covered.
We put together a handy quiz that will help you figure out what type of dream wedding you should have based on your personality.