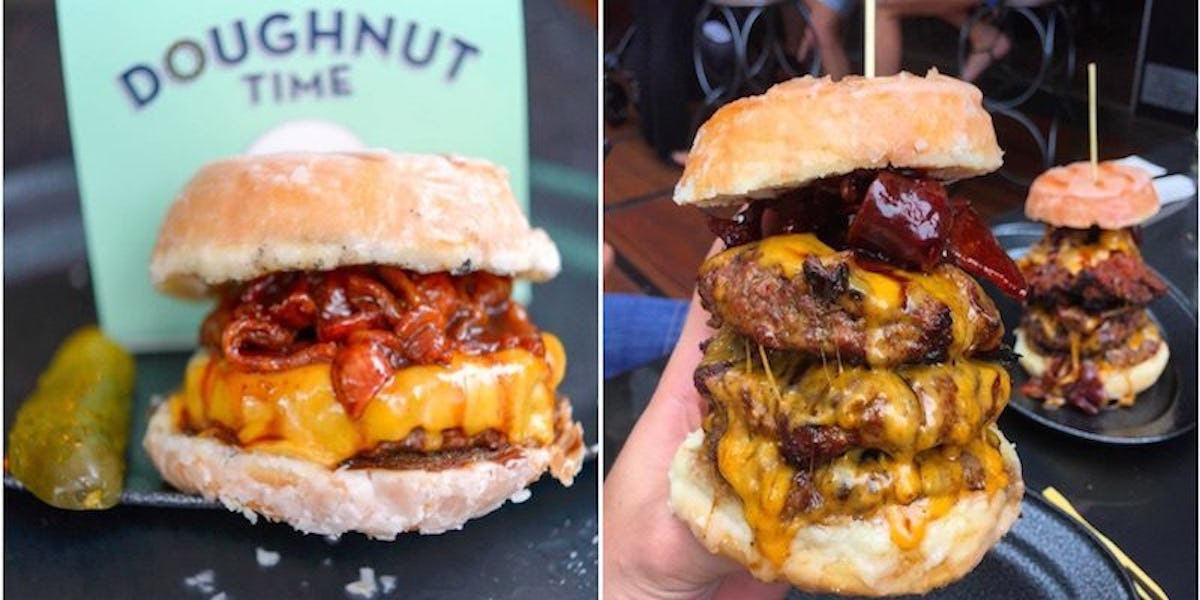 This Insane Doughnut Burger With Nutella And Bacon Looks Weirdly Good (Photos)
Instagram Instagram
Everyone knows Australia is responsible for some of the best food-porn creations around.
Remember when we showed you those over-the-top milkshakes and monstrous burgers?
Well, apparently those towering treats aren't the only decadent snacks being served up down under.
Yep, once in a while, some creative genius walks into a kitchen, throws a bunch of random sh*t together and pure magic ensues.
So, what happens when the most almighty foods on the face of the planet are combined into one insane snack? Well, thanks to one burger joint, Ze Pickle, I now have the answer.
You get a Wagyu beef and Nutella-smoked bacon cheeseburger nestled between two halves of a glazed doughnut.
No, I'm not kidding.
This badass burger actually exists, and Ze Pickle named this meaty masterpiece the Doughnutfukwitdis.
Stop what you are doing. Australia just pushed the limits of food porn once again with arguably the greatest invention of all time.
Feast your eyes on the almighty Doughnutfukwitdis.
Burger joint Ze Pickle teamed up with Doughnut Time to create this mouthwatering masterpiece, and it looks downright heavenly, to say the least.
The Doughnutfukwitdis consists of a hand-pressed Wagyu beef and Nutella-smoked bacon cheeseburger sandwiched between a grilled, glazed doughnut.
If one patty isn't enough, you can go for a double...
Or triple-patty burger...
...and the burger also comes in a fried-chicken patty version!
Naturally, people are losing their damn minds over this tasty treat.
But then again, you can't really blame them because, seriously, just look at this thing!
If you want to get in on the Doughnutfukwitdis action, these bad boys will cost you somewhere around 1,300 calories.
So, you might want to schedule some extra time at the gym after demolishing one of these bad boys.
But hey, this glorious thing totally looks worth three extra hours of cardio.
Citations: The McHeart-attack: The monstrous burger with Nutella smoked bacon and a doughnut bun - and nearly THREE times more calories than a Big Mac (Daily Mail)