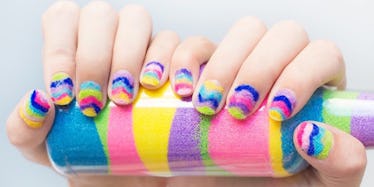 DIY Sand Art Nails Will Seriously Bring You Back To Your Childhood (Photos)
If you thought sand art was just something you did in art class as a kid, you clearly haven't been keeping up with the latest beauty trends.
Remember when we showed you that colorful sand art hair trend a while back?
Well, thanks to the newest nail craze, you can now match your mani to your multi-colored mane. That's right: Sand art nails are now a real thing, and these fun manicures look absolutely amazing.
Created by the crafty geniuses over at Studio DIY, this nostalgic nail trend lets you deck your digits out in all sorts of bright textured designs.
But before you crack open one of those sand layered bottles you made in third grade, you should probably know these mesmerizing manis don't use actual sand. Apparently, velvet flocking powder is the secret to getting the perfect sand art mani.
Studio DIY was even nice enough to post step-by-step directions of the whole process, so now you can get in on the sand art action and try one of these manis out for yourself.
Take a look at the pictures below to see this stunning nail art.
Move over, sand art hair...
There's a bright new trend taking the beauty scene by storm...
...and now sand art nails are all the rage.
Created by Studio DIY, these mesmerizing manis let you relive the glory of your childhood art classes...
...by transforming your tips into a brilliant display of sandy lines.
Thanks to Studio DIY, you can even try this new trend out for yourself.
All you have to do is follow its step-by-step directions, and within no time, you'll be sporting some seriously eye-catching nail art.
Citations: DIY Sand Art Manicure (Studio DIY)