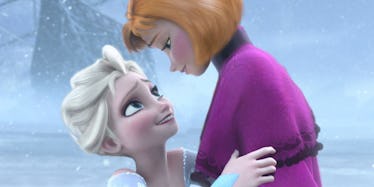 Artist Reimagines Your Favorite Disney Princesses Rocking Short Hair (Photos)
Last month, we introduced you to The Nameless Doll, a Tumblr artist who reimagined Disney princesses as mermaids.
The artist's first series got a lot of attention, and now, The Nameless Doll is back -- this time, with a far more daring project.
In this series, The Nameless Doll reimagines Disney princesses with short hair, which goes against the idealized beauty all Disney princesses seem to uphold: thin women with long hair and big eyes.
The artist wrote on Tumblr,
Ever since I got my pixie cut last year, I wanted to make a little Photoshop series where I gave all of the Disney princesses short hair, but I never actually tried it out until this summer. My goal was to try and mimic the movie's style as much as I can.
Check 'em out below, and head to Tumblr to see more of The Nameless Doll's work.
Ariel
Anna and Elsa
Jasmine
Tiana
Belle
Rapunzel
Sleeping Beauty
Cinderella
Snow White
Citations: Heres What Disney Princesses Would Look Like With Short Hair (Cosmopolitan)