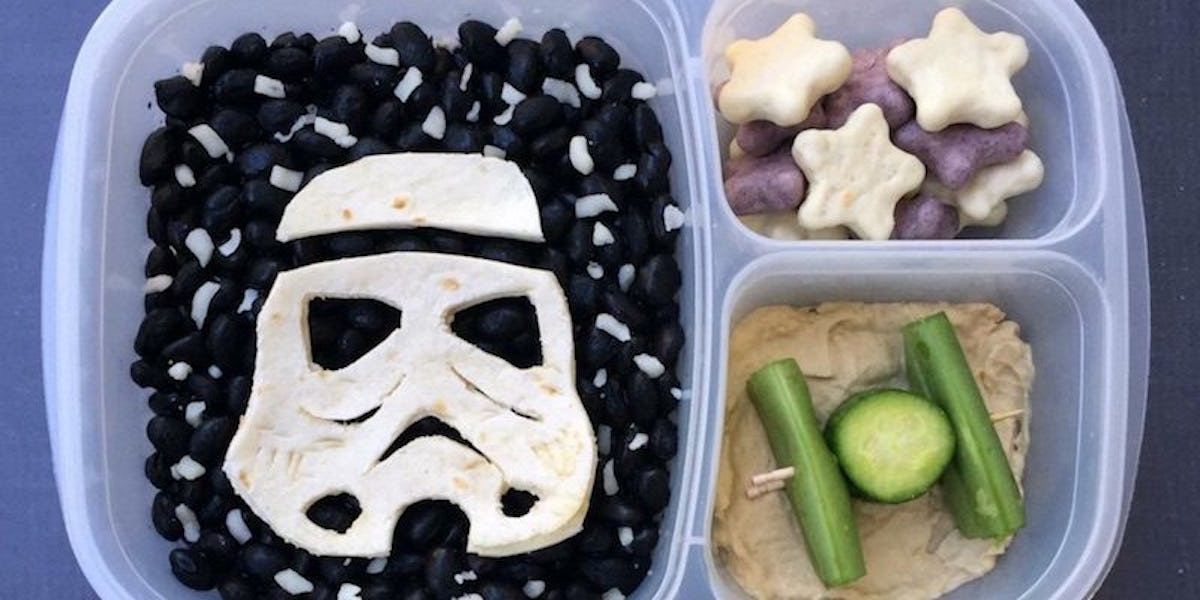 Awesome Dad Makes His Kids 'Star Wars'-Themed Lunches For School (Photos)
Growing up, I was always a bit jealous of the kids who came to school with some seriously awesome homemade lunches.
My mother happens to be one of those people who's so incredibly bad at cooking, she can basically burn water.
So, the best things I ever found in my lunch box were a Capri Sun and a poorly assembled peanut butter and jelly sandwich.
However, Beau Coffron, the proud father of three and man behind the blog Lunchbox Dad, is one parent who totally takes the win for whipping up some amazing school lunches.
Every week, this San Fransisco-based super dad makes his kids fun-themed lunches that look almost too incredible to eat.
It takes Coffron about 30 minutes to make these mesmerizing meals, and he always picks a delicious theme that relates his children's current cartoon character or superhero obsessions to the lunches.
Coffron wrote,
I started doing this because [I] wanted to let them know that their dad is thinking about them and loves them.
Right now, his kids happen to be on a "Star Wars" kick, so Coffron crafted some badass lunches to get them excited for the upcoming release of "Star Wars: The Force Awakens."
Take a look at the pictures below to see some awesome lunches from a kitchen far, far away.
R2-D2 sandwich
BB-8 droid sandwich
Princess Leia lunch
"Star Wars"-My Little Pony lunch mashup
Stormtrooper burrito
Chewbacca sandwich
Ewok sandwich
Yoda, C-3PO and R2-D2 bento box
Citations: I Make My Kids Star Wars Lunches To Take To School (Bored Panda)