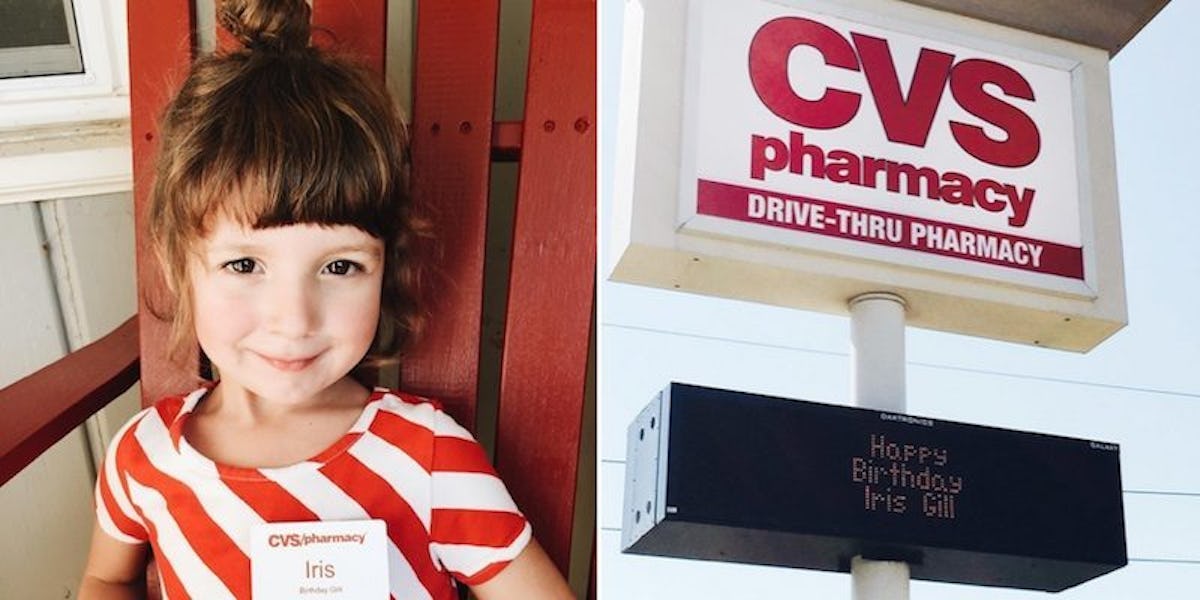 This 4-Year-Old Girl Got The CVS-Themed Birthday Party Of Her Dreams (Photos)
Everyone knows the best way to celebrate your birthday is by having a party at your favorite hang-out spot.
Even if that place happens to be CVS.
When Arkansas-based blogger and mom Sarah Fortune Gill asked her daughter, Iris, what kind of birthday party she wanted, the mom was expecting to hear something along the lines of a princess party or maybe some "Frozen"-themed festivities.
But instead, Iris took the nontraditional route and told her mom she wanted the theme of her party to be CVS.
Yes, you read that correctly. CVS, as in the pharmacy store.
Apparently, Iris has quite a thing for this store. Her mom told BuzzFeed,
Ultimately she loves CVS because she knows it to be a dream-land of snacks, chocolate milks and toys.
Sure, a CVS-themed kid's party might sound a little strange.
But hey, the heart wants what the heart wants, so Sarah went ahead and threw her daughter the best damn CVS-themed party the world has ever seen.
Take a look at the pictures below to see Iris' badass birthday bash.
Iris isn't your average 4-year-old girl from Fayetteville, Arkansas.
This cute kid happens to love CVS... a LOT.
Iris' mom told BuzzFeed, "I'm more of a Target girl myself, so Iris is CVS loyal all on her own."
Seriously, Iris loves this store so much it actually brings tears to her eyes.
Therefore, it should come as no surprise Iris asked her mom for a CVS birthday party.
So, Sarah got to work on making her daughter's pharmacy store birthday wishes come true.
She went with an obvious choice for the party's color scheme...
...opting for the signature red and white CVS colors.
She also thought of all sorts of adorable CVS-related things, like a "Birthday Girl" employee name tag...
Some C.V.S. (Canberry Vodka Splash) drinks for the adult shoppers...
...and a CVS birthday cake, of course!
Plus, each attendee got to leave the party with a CVS shopping bag...
Filled with drug store goodies for the kids...
...and some Tic Tac prescriptions for the parents.
Sarah even had CVS put a special message on its sign for the occasion.
If you ask me, this pharmacy-themed party was certainly a success.
Citations: This 4-Year-Old Is So Obsessed With CVS She Had A CVS-Themed Birthday Party (BuzzFeed)