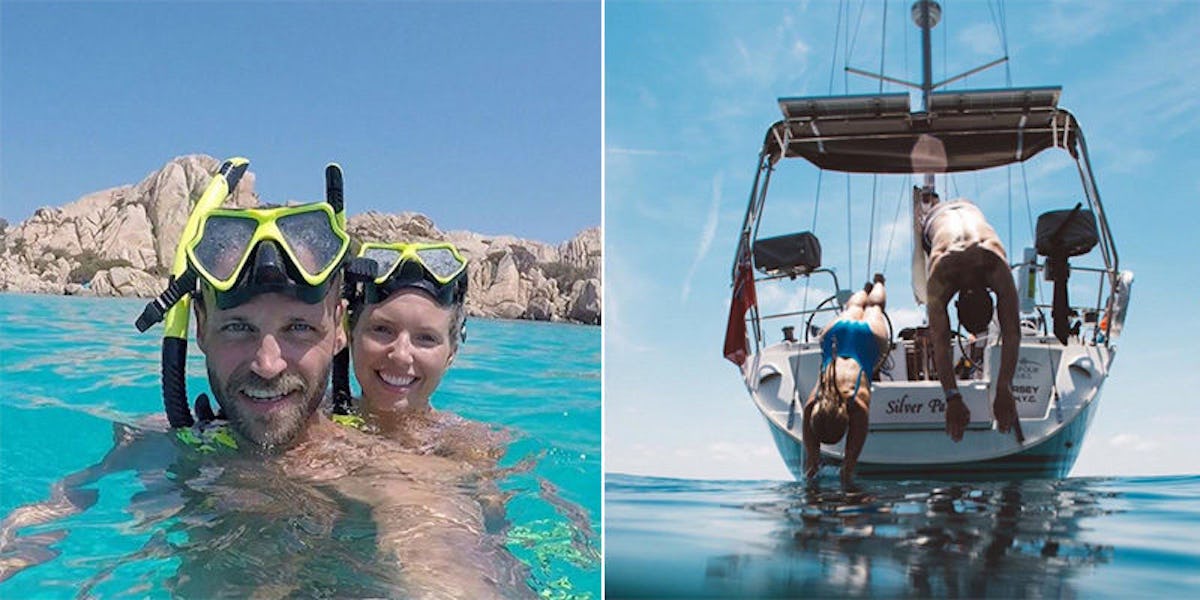 This Couple Ditched Their Jobs To Travel Around The World On A Sailboat (Photos)
At some point, I think we've all daydreamed about quitting our jobs and jetting off around the world.
Not too long ago, we introduced you to a couple who traveled around the world to find the meaning of true love.
If you thought their journey was pretty awesome, you'll be glad to know those spontaneous soulmates aren't the only ones with a serious appetite for adventure.
This past May, 29-year-old Charlie Smith, a model, and her architectural designer fiancé, a 34-year-old who goes by the name Captain, decided to ditch their wedding plans for the time being so they could live out their wanderlust dreams.
However, they prefer to do all their exploring on the high seas.
So, the couple sold all their belongings, bought a 38.5-foot Dufour sailboat, quit their jobs and headed out to sea.
Now they spend their days sunbathing, reading, listening to music, snorkeling, paddleboarding and going ashore to check out the local sights.
Smith told Daily Mail,
We are all about play here -- sunshine, nourishment, gratitude and jumping off everything we can find into the sea!
Take a look at the pictures below to see their amazing adventures.
Charlie Smith and her fiancé, Captain, aren't your ordinary couple from the Channel Islands between England and France.
In May, these two decided to put their wedding plans aside...
...so they could explore the sea side by side.
Neither Smith nor her fiancé knew much about sailing, so they prepared for their voyage by taking RYA skipper, first aid and sea survival courses.
Then they sold all of their possessions, bought a boat, ditched their day jobs and set sail.
So what made these unexperienced sailors decide to wander through the waves of the world?
Smith told Daily Mail, "After years living on building sites the prospect of lugging backpacks around the world sleeping in hostels didn't seem like the break we wanted."
She continued, "The sailing idea was a way to travel but take our 'nest' with us."
So far these seafaring soulmates have sailed through the waters around the Mediterranean, France, Spain...
...Italy, Elba, Corsica, Sardinia and even the Balearic Islands.
When they're not working on their tans or catching up on some reading...
You can normally find them paddleboarding...
Snorkeling in the deep blue sea...
...or heading into shore to check out the sights on land and stock up on supplies.
Smith and Captain are currently floating off the coast of Barcelona and plan to return home for Christmas.
Citations: Couple who quit their jobs for life on the high seas: Pair sold their house and blew their wedding budget to explore the world by boat (Daily Mail)