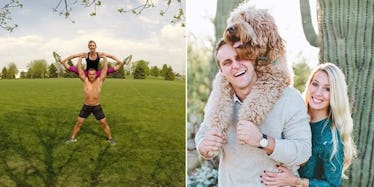 This Couple Truly Defines All Of Your Fitness And Relationships Goals (Photos)
Everyone knows couples who work out together, stay together.
Fit couples share the same passion for pumping iron, work as a team to reach their goals and strengthen both their muscles and their relationship every time they break a sweat.
We've all seen our fair share of couples who flaunt their gains and fitness knowledge on social media.
But Mike and Lex Sawtelle might just be the most epic Insta-famous swolemates of all time.
The dynamic duo lives in Arizona with their adorable golden doodle, Wrigley, and have recently gained a lot of attention on social media thanks to their awesome Jacked And Jill Instagram account.
These two have made exercise an important part of their daily lives and post all sorts of cute videos on social media featuring amazing couple workouts that even include the dog.
No really, Mike and Lex pump out pushups, squats and lunges with Wrigley on their shoulders like it's NBD.
It's not hard to see these fitness fanatics love working out just as much as they love each other and this badass swole squad should definitely be your new #fitfam goals.
Meet Mike and Lex.
Aside from being one ridiculously cute couple...
...these inspiring individuals are incredibly fit...
...and love working out just as much as they love each other.
Not to mention, their precious pooch, Wrigley, of course.
These guys are so into fitness, they've actually made working out a family affair...
...and Wrigley even gets in on the exercise action.
Recently, this Arizona couple has become a social media sensation...
...thanks to their awesome Instagram account called Jacked and Jill.
They post all sorts of creative workout ideas...
...and inspiring videos that show the whole family breaking a sweat...
...and making healthy choices to achieve those mutt muscle gainz.
Seriously, who need dumbbells when you have a hot wife and a golden doodle?
There's no denying Mike and Lex are the ultimate #RelationshipGoals...
...and seeing this happy family will definitely inspire you find a swolemate, get a dog and start your own little #fitfam.