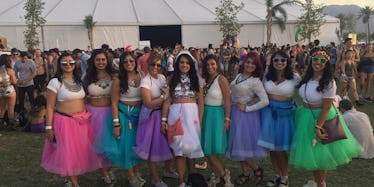 This Bride Threw An Epic Bachelorette Party At Coachella And It's Serious Goals
Elite Daily
Everyone knows before the wedding comes the bachelorette.
Your social media is probably flooded this time of year with bach party pics in places like Miami, Nashville and Las Vegas. From boats and clubs to vineyards and breweries -- it's all about the setting for these epic parties.
But it's going to be pretty difficult to top a bachelorette thrown at one of the most stylish, Instagram-worthy places in the country: Coachella.
If you aren't in Indio, CA, right now, you probably already have a serious case of FOMO, but wait until you see the party pics from one incredible festival-themed bachelorette party.
Aisha Amjad, a self-proclaimed festival girl, celebrated in style with her closest friends at Coachella.
Aisha said she's come to Coachella for the past four years, so her friends knew this would be the perfect way to party before her big day. They planned it all together and rented a house for 13 nearby the festival grounds.
For day two, they decided on coordinating outfits. But they didn't don your typical "bride wears white and everyone else wears black" bachelorette outfits. No, these bach-goers stayed true to theme -- pulling off both #CoachellaGoals and #BachGoals.
It was easy to spot the group -- even among the hoards of eccentric festival gear -- as they sat perched in the grass in between sets.
Aisha told Elite Daily,
We all planned outfits and decided to coordinate today... We just decided we wanted something really out there, colorful, pastel colors and bright colors, and we picked these skirts... In the morning, we did brunch with heels and then we decided to put these shoes on and come into Coachella.
Aisha said the tulle skirts were ordered off an Etsy shop from China. The bridesmaids accessorized with flower crowns, glasses and festival-inspired makeup.
And no bachelorette is complete without a hashtag. This group shared photos using #AishasBachella.
Congratulations to Aisha! Thanks for giving us all a little festival envy and giving us something to live up to when we plan our bachelorettes.