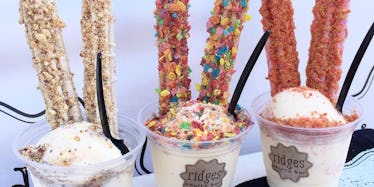 These Epic Ice Cream Sundaes Are Made With Churros And Topped With Cereal
If you ask me, there's nothing better than waking up on a Saturday morning and stuffing your face with a big-ass bowl of Fruity Pebbles.
Except, maybe, demolishing your favorite childhood cereal in the form of an epic dessert, of course!
Yep, there's a new food truck in Los Angeles called Ridges Churros Bar that just made all of our sweet dreams come true by turning boring old cereal into a seriously mind-blowing snack.
Allow me to introduce you to the delectable cereal-covered churros sundae.
If you're wondering what this tasty treat entails, let me break it down for you.
Ridges Churros Bar takes your beloved churros, smothers them in all sorts of tasty cereal toppings and then sticks them in a cup of ice cream, because seriously, why the hell not?
The churro toppings include everything from Reese's Puffs and Fruity Pebbles to Nutella, and once you try one of these bad boys, you'll never be able to go back to eating plain old cereal and milk ever again.
Take a look at the pictures below to see these insane eats.
Behold, the cereal-covered churro sundae.
These things are just like your ordinary churros...
Except for the fact they're decked out in all sorts of delicious toppings...
...and served in the form of an epic ice cream sundae.
The LA food truck Ridges Churros Bar is the mastermind behind this cool concoction...
...and these glorious treats basically look like heaven in a cup.
The food truck offers everything from churros covered in Fruity Pebbles...
And Reese's Puffs renditions...
...to delectable fried dougnuts dipped in chocolate.
If that's not enough to make you drool...
There are also flavors like Nutella Nut...
Cookie Butter S'more...
Starwberry Shortcake...
...and a salted caramel sundae complete with some Cinnamon Toast Crunch cereal, of course.