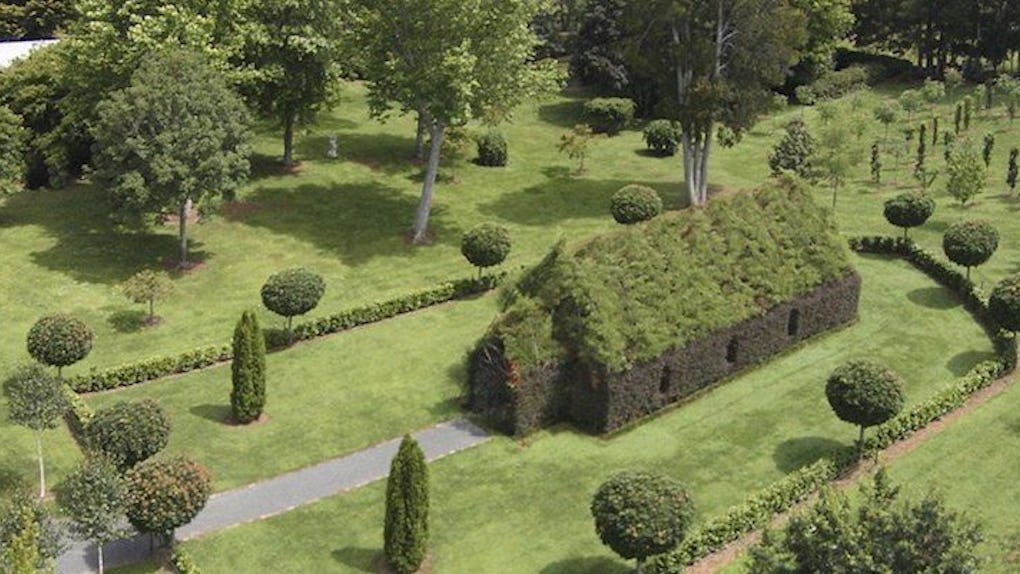 Tree Church
This Man Spent 4 Years Growing A Church Completely Made Out Of Trees (Photos)
We've seen walls completely made out of tiny Lego bricks, but this takes the cake.
A New Zealand tree specialist is making headlines after crafting a life-size church out of shrubs and trees.
His name is Barry Cox, and he proudly spent four years putting the masterpiece, Tree Church, together.
Cox owns the nearly three-acre piece of land the church sits on, which made creating the structure possible in the first place. After all, you can't build a church out of trees just anywhere.
Art like this requires isolation from the real world!
According to Daily Mail, the naturally sunlit church seats up to 100 people but was originally intended to be a private space for Cox.
However, as friends and family began to show more and more interest, Cox decided to make it open to the public.
These days, the church is used for various events.
Despite using a mixture of types of greenery and trees, Cox stresses all of the materials used during this project were simply condemned trees being revived through the church.
In a recent interview with Stuff.co.nz, Cox said,
People know how much I love trees so they call me when there are trees that would otherwise be cut-down or removed. I go and kind of rescue them.
Now that's what it's like to actually be environmentally friendly!
Check out the photos below for a closer look.
No, this isn't a computer rendering; it's a church in New Zealand crafted completely out of trees and shrubs.
Tree Church was created by Barry Cox.
It sits on approximately three acres of land and features the use of Cut Leaf Alder and a variety of matured trees.
Cox originally created it for himself but after friends and family fell in love with this isolated sanctuary, he decided to open it to the public.
Despite the fact that it took four years to build, Tree Church is being put to good use these days for various events.
Here's a closer look at Tree Church.
Citations: Plant lover spends four years GROWING his own chapel from shrubs and another eight hours primping the structure each time he hosts a wedding (Daily Mail)