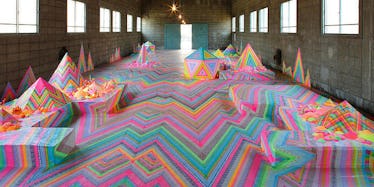 This Candy Floor Art Installation Puts Even Willy Wonka To Shame (Photos)
If you happen to have a sweet tooth, you've probably had visions of sugar plums dancing in your head.
However, one artist from Australia took her sugar addiction to the next level by turning all of her sweet dreams into a reality.
Tanya Schultz, who also worked as Pip & Pop, recently created a sweet art installation transforming normal floors into colorful work of candy art.
By using a variety of materials, such as sand, beads, candy, glitter and small toys, Schultz was able to develop seriously sweet designs that put Willy Wonka's confection-filled factory to shame.
Schultz initially started the project with Nicole Andrijevic, but after the two parted ways, Schultz didn't stop creating these magnificent, swirling displays of fluorescent floor art.
Each intricate candy design in Schultz's exhibit creates a simply spectacular overload of colors.
Tanya Schultz is no stranger to making some pretty sweet artwork.
While this may look like your average floor art...
...all of these colorful creations are actually made out of candy.
Her latest art exhibit looks like a real-life version of Candy Land.
Each sweet design features an overload of flowing fluorescent colors...
 ...and incredible, swirling sugar designs.
Each sugary landscape is made with brightly colored candy...
...along with sand, beads, candy, glitter and small toys.
She painstaking arranges these mesmerizing materials...
...into massive, mind-bending geometric patterns...
...and fairytale scenes sure to give you a sugar rush.
Citations: This Candy Floor Art Installation Will Make Your Head Spin And Your Tummy Roar (Bored Panda)