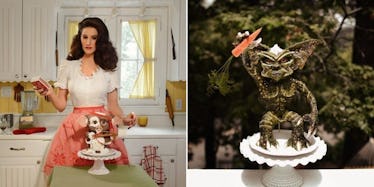 This Artist Makes Creepy Cakes That Are Straight Out Of Horror Movies (Photos)
A while back, we introduced you to Christine McConnell, the gorgeous gal who flawlessly recreated portraits of several women in her family.
However, it turns out this LA lady has another hidden talent besides photography.
McConnell is also a pretty skilled baker. Her cakes are so damn good it's scary.
All of her gothic creations are so terrifying, they might just give you nightmares. Yep, you won't find the typical pastel-colored, frosting-swirled, sprinkle-topped sweets in this baker's kitchen.
Instead, McConnell prefers to whip up all sorts of creepy, surrealistic cakes that look like they came straight out of a horror film.
All of her dark desserts can be found on her impressive Instagram, and you have to admit, her chic gothic style looks great alongside those chilling confections.
Take a look at the pictures below to see some of her twisted treats.
Meet Christine McConnell.
McConnell isn't your average baker babe.
This gothic gal prefers to add a dark twist to all of her desserts.
She taught herself how to bake by watching YouTube videos.
Apparently, she's gotten pretty good since then...
Because her cakes are so impressive...
...they're almost frightening.
That's right, McConnell's specialty is crafting sugary creations that will scare the sh*t out of you.
She's mastered the art of everything from grotesque gremlin cakes...
And spider-clad cupcakes...
To monstrous waffle cone cakes...
Giant creepy, crawly confections...
Snake-slithering sweets...
...and tarantula treats.
All of her spooky sweets are simply to die for.
Citations: Christine McConnell's Creepy Cakes Are Too Damn Bad/Good Too Eat (Metro)