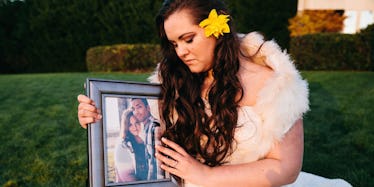 Woman Honors Late Fiancé Who Died In Car Crash With Touching Photo Shoot
Lauren Reynolds' life was forever changed just one month before her wedding when she found out her fiancé, Tristin Woods, died in a car accident.
What was supposed to be a month of planning and anticipation was immediately replaced by a funeral and coming to grips with the fact she would only be able to see the man she planned on spending the rest of her life with in photographs and home movies.
It's those very pictures Lauren and Seattle, Washington-based photographer Stephanie Jarstad used to make a heartbreaking memorial to Tristin -- an emotional, eerie and empty replacement for a wedding that never happened.
Jarstad told Pixable,
Lauren hopes this photo shoot will cause others to have a new outlook on life and to influence others to express the love they feel. She is grateful for the time she spent with Tristin.
In a short film shot by Jarstad about the photo shoot, Lauren speaks of the little bits of Tristin she keeps with her at all times. She said,
He would call me and if I wouldn't answer he would leave these little voicemails of just, like, his pocket noise. I have like 20 of them, but I love it now because... it's HIS pocket noise.
In a message on Pixable, Lauren said,
Life is so fragile. My hope is that those who truly invest some time in learning my story will develop a sense of empowerment to fully appreciate the love in their lives. Appreciating the love in your life isn't just something you do alone in your mind. There are physical and mental barriers that have to be broken in order to love to the levels that you and those around you need. So go tell your mom you're sorry, hug your little brother like he's been trying to do for the last week, look in the mirror and feel good about yourself, bring your grandma a birthday card and hug your spouse tight enough that they know they will always be the one for you. Don't ever go a day without telling that person you're thinking about right now, that you love them.
The photo shoot was an understandably emotional event for everyone involved. Jarstad said,
There was one moment when we were all reminiscing about Tristin and the sun broke through the clouds and we all were pretty overcome with emotion. I caught a few photos of it and it felt as if he were there in the photo standing above her. His presence was very near and it was such a touching project to be a part of.
In a quote accompanying one of the photos, Lauren said,
Today is my wedding day. On October 11th I didn't just lose Tristin, I lost the life we'll never live together, I lost all of the children we'll never have and all of the grandchildren we'll never get to spoil, I lost my other half.
You can watch the full short here. https://www.youtube.com/watch?v=rXD4V0rswZA
Citations: Lauren Reynolds Honors Her Beloved Fiancé, Who Passed Away One Month Before Their Wedding (PHOTOS) (Pixable)