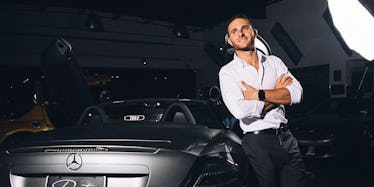 Meet The Miami Car Mogul Who Sold $1 Billion Worth Of Lamborghinis
Brett David
The luxurious lifestyle has been synonymous with Miami culture since the 80's, when "Scarface" showed us what the American Dream should (and shouldn't) be.
Today, Miami is the home to some of the world's wealthiest ballers, and it only makes sense that yachts and supercars are readily available.
Most people wouldn't guess, however, that the owner of the number one luxury car dealership in South Beach, who sold $1 billion worth of Lamborghinis and orchestrated the largest Audi dealership sale in history, is under 30.
A photo posted by Prestige Imports Miami (@prestigeimports) on Nov 13, 2015 at 5:41pm PST
Brett David is the 28-year-old CEO of Prestige Imports, a company he took over after his father suddenly passed away when he was just 19.
He spoke with Elite Daily to tell us exactly how everything came to be and what it means to continue on his father's legacy, which he admits nearly never happened in the first place, as he did it against his wishes.
I was faced with the difficult decision to continue the business instead of selling immediately upon his passing, as stated in his will. He would have never imagined that Prestige Imports could survive and be successful without him. Continuing his legacy and knowing how proud he would be is what motivates me every day.
A photo posted by Brett David (@brett_david) on Jan 20, 2016 at 11:20am PST
Prestige Imports is now one of the industry leaders in luxury car sales in the US, and while Brett's father, Irv David, started it back in 1977, it was Brett's fresh approach to social media marketing which built his brand to what it is today.
David estimated that last year he had between $5 and $10 million worth of sales generated from social media, which he says is cost-free.
We have been able to grow our social following on Instagram alone to over 450,000 between my personal and business pages. Our followers, near and far, enjoy being a part of our daily business, automotive activities and special events. It has also become a revenue stream. We make sales every month through people inquiring about our cars on that are posted on our pages. Kind of crazy!
Prestige creates buzz by having professional photographers capture their cars in unique ways, while staying consistent with the brand.
A perfect example is their signature Sharpie Lamborghini (pictured above), which Brett says put them on the map after his father passed away. They were able to make it go viral themselves, through social media, and it was featured in several magazines and on television segments around the world.
Miami also serves as the perfect city for wealthy clients and, of course, celebrities.
From Mike Tyson to Rod Stewart, Missy Elliot to the late Whitney Houston, and of course all the athletes, celebrities know where to go for their supercars. Even The Rock goes to Prestige when he needs a whip for "Ballers."
A photo posted by Brett David (@brett_david) on Jul 19, 2015 at 7:21pm PDT
Brett goes beyond just his dealership, however, and oversees Lamborghini Miami, which has sold over $1 billion in sales since 2008.
As the youngest new car dealer in the United States, Brett also made Prestige Audi the number one volume Audi dealer in the country, and in 2015, he pulled off the largest sale in Audi history for a single point store for $80 million.
But it doesn't stop there. Brett was also the first man to secure a Pagani dealership on the East Coast, and with only three locations in the US, you already know DJ Khaled is a client and had to check out the new Project Vulcan.
A photo posted by Brett David (@brett_david) on Apr 5, 2016 at 5:02pm PDT
Being the young guy, and a Millennial in the industry, Brett believes it's all about hard work that, regardless of the generation or circumstance, separates the blessed from the rest.
Millennials are stereotyped having a sense of entitlement and not having a good work ethic. But, being a millennial myself, I believe most area part of the greatest generation ever and are extremely hardworking.
He also knows it can be an advantage against some of his competitors.
Millennials are tech savvy and therefore enormously clever and resourceful. Either way, what truly defines you as a person is your character. Not how much money you have, or what type of car you drive or the clothes you wear. All of that is just a façade.
A photo posted by Brett David (@brett_david) on Mar 20, 2016 at 5:05am PDT
At the same time, Brett knows that in his line of work, he's only going to attract a certain caliber of clients. Meeting like-minded people who worked hard to get what they want in life is something that still inspires him every day.
The best part of my job is meeting people from around the world and hearing their stories about the journey that afforded them the ability to purchase a Lamborghini or a super sports car, like a Pagani. I've learned that everyone has trials and tribulations in life and no one is exempt from achieving success without experiencing failures. Not having my father's guidance in business, I've appreciated being exposed to such a diverse clientele.
Brett isn't stopping with luxury car sales. He's using it as a platform to move in to other things, like real estate and charities. Not to mention, he recently signed a deal with Van Dutch luxury yachts.
For him, this is just the beginning. Brett says,
It's granted me the opportunity to grow and navigate my own future.
A photo posted by Prestige Imports Miami (@prestigeimports) on Nov 12, 2015 at 12:57pm PST
To this day, Brett keeps his father's name plate on his desk at Prestige Imports to remember how far he's come and how everything he learned is owed to Irv.
It's been almost 10 years since my father passed away, and yet everyday that I walk into my office (which used to be his) and I see my name plaque next to his on the desk, I still can't believe he's really gone.
While it might've been against his wishes, it's safe to say he was able to use everything he learned from his pops and surpass any expectations.
I grew up at this dealership watching my father micro-manage the entire business from directing his employees to buying and selling new and used vehicles. From overseeing building additions to dealing with the various franchises.
As for how long he's come in just nine years, it seems like Brett David has no regrets.
It was a learning experience that far surpassed anything I could have learned in a classroom setting.