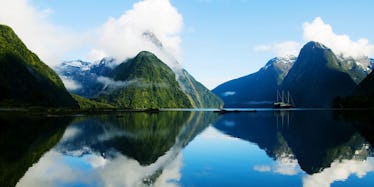 This Breathtaking Footage Captured In New Zealand Will Fuel Your Wanderlust
Shutterstock
Personally, I've never been to New Zealand, but after watching this, I'm seriously thinking about planning a trip!
In a recent video uploaded to YouTube by Devin Super Tramp, the videographer packs his bags, heads to New Zealand and captures the whole thing through the lens on his 6K resolution camera and an aerial drone.
If you've been looking for a new travel destination to jot down on your bucket list, this might be it.
To make it happen, Super Tramp teamed up with Tourism New Zealand's 100 Percent Pure New Zealand for access to all of the best, most breathtaking spots around the country.
The road trip lasted a total of two weeks, which allowed Super Tramp to participate in a total of 14 different activities. Ladies and gentlemen, this is how you travel! After all, this is what Devin and his team do for a living!
From bungee jumping and white-water rafting, to go-karting and zip-lining, there are way too many things for thrill seekers to take part in when visiting New Zealand. Not to mention, just about anywhere you look will make you want to whip your camera out and capture scenic beauty.
Check out the video above for a closer look!