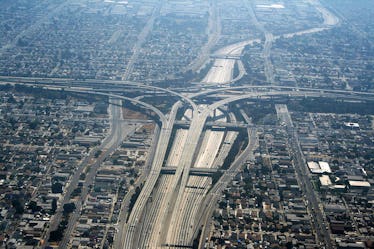 This Breathtaking Aerial Footage of Los Angeles Proves Drones Are The Future
Ever wish you could see your hometown from a bird's eye view?
In a recent video uploaded to YouTube by Mingomatic, we're taken along for a flight over Los Angeles as a drone is flown over the city's most popular landmarks including the La Brea Tar Pits, UCLA, the Pacific Design Center and more.
This is proof that digital cameras and selfie-sticks just aren't cutting it anymore. If you really want to see something cool, send a drone up into the blue skies above your city and you might see something you have never seen before!
Check out more of Mingomatic's breathtaking drone footage, like this equally stunning aerial footage of the Venice Beach skatepark, below.
Citations: Drone Video: See The La Brea Tar Pits, UCLA And More From Above (LAist)