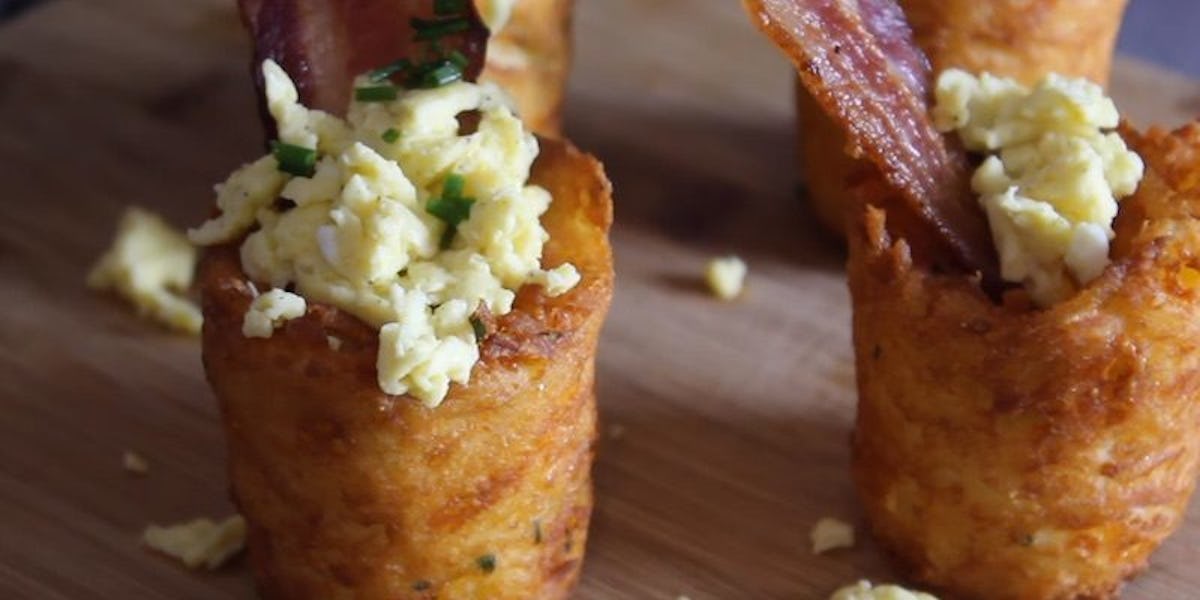 These Insane 'Breakfast Shooters' Will Take Your Mornings To A New Level (Video)
We've all seen some pretty cool desserts served in shot glasses.
Remember when we made you drool over those delectable cookie shot glasses filled with milk?
Well, if you thought those sweet shooters were awesome, you might want to brace yourself. We just came across another epic food creation transforming the most glorious meal of the day into shot formation.
Behold: breakfast shooters.
Thanks to The Vulgar Chef, you can now ditch the boring old plate of eggs and bacon for some badass breakfast shot glasses filled with all of the AM snack essentials.
They're just like the shots you throw back at the bar, minus the booze.
These scrumptious shooters swap out the normal shot glass for some hash browns molded in the shape of a cup, fried to crispy, golden perfection and then filled with whatever breakfast goodies your hungry heart desires.
Take a look at the pictures below to see these tasty breakfast treats.
The Vulgar Chef just took breakfast to the next level...
...by creating epic breakfast shots that let you have your scrambled eggs and eat the glass, too.
That's right. Hash-brown shot glasses filled with eggs and bacon are now real things, and they look delicious AF.
Check out the video below for a closer look at how to make these mouthwatering breakfast shots at home.
Citations: Breakfast Shooters (The Vulgar Chef)