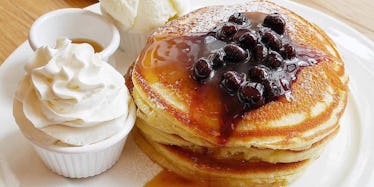 People Are Waiting In Line For Hours To Try These Insane Blueberry Pancakes
New Yorkers are no strangers to waiting in line for sh*t.
From fresh-baked Cronuts to milkshakes decked out in mountains of treats -- New York City is home to a variety of epic eats that are totally worth standing in line for hours to experience.
However, the latest thing that has people lining up on city sidewalks might surprise you. Nope, it's not a new hybrid food or some luxe goodies loaded up with edible gold leaf.
It's a stack of blueberry pancakes.
That's right. Clinton Street Baking Company is known for having some of the best blueberry pancakes in the whole damn city, and based on the insane lines that form outside of this place, it's pretty obvious these coveted breakfast treats are definitely worth the wait.
So then, what makes these stacks so special?
These light, fluffy pancakes are made with wild Maine blueberries plus "a lot of love and a lot of butter," and it doesn't hurt they come decked out in syrup, alongside some maple butter and sugar-cured bacon.
Yeah, these things basically put every stack of diner pancakes to shame, so it's not hard to see why so many people are buzzing about these blueberry beauties on social media.
Check out the photos below for a closer look at these glorious blueberry pancakes.
When it comes to making some seriously delicious pancakes…
...Clinton Street Baking Company doesn't f*ck around.
This place is famous for having some of the best blueberry pancakes in all of New York City.
In fact, they're so good, people have no problem waiting in line for hours just to get their hands on a plate.
Lately, these famous stacks have been creating quite the buzz on social media.
But then again, it's not hard to see why.
I mean, seriously, just look at these things.
They look downright heavenly, to say the least.
The Clinton Street Baking Company takes its stacks to the next level…
...by serving up fluffy pancakes filled with wild Maine blueberries, plenty of butter and, of course, some love.
If that's not enough to make you drool, they're also topped with more blueberries and some powered sugar for good measure…
...and served alongside some mouthwatering maple butter and sugar-cured bacon.
Yeah, if you ask me, these things are totally worth the wait.
Citations: New Yorkers wait in line for hours to eat these blueberry pancakes (Business Insider)