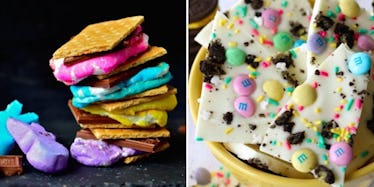 22 Delicious Dessert Recipes You Can Make With Your Leftover Easter Candy
There's nothing better than waking up on Easter morning and discovering a basket full of sweet surprises along with a sh*t ton of candy-filled eggs stashed around your house.
Everyone knows the best way to reward your morning egg-hunting efforts is by stuffing your face with a pile of pretty pastel confections.
But if you're starting to get sick of plain, old jelly beans and chocolate bunny ears, don't toss your Easter basket away just yet.
It turns out you can actually turn all of those glorious goodies left from the Easter Bunny into a variety of candy-clad treats that are delicious AF.
That's right. From Easter egg brownies and boozy Cadbury confections to pastel cookies and cakes piled high with Peeps -- there's a seemingly endless amount of ways you can get creative and repurpose your sweets into seriously impressive snacks.
So, I rounded up a bunch of mouthwatering recipes to let you put every last piece of pastel candy in your Easter basket to good use.
Take a look at the pictures below to see all the ways you never knew you could turn your leftover Easter candy into epic treats.
Peanut Butter Cookie Pie
Peeps Pizza
Easter Candy Cookies
Brown Butter Peeps Marshmallow Treats
Double Chocolate Easter Candy Doughnuts
Boozy Cadbury Creme Egg Milkshake
Spring Krispie Cake
Easter Candy Popcorn
Easter Brownies
Peeps Bunny Pudding Cups
Leftover Easter Candy Mug Cake
Peep S'mores
Easter Oreo Bark
Malt Ball Mini Cheesecakes
Cadbury Egg Chocolate Lava Cake
Marshmallow Peeps Lemon Drop Martini
Chocolate Pudding Cookies with Mini Robin Eggs
Mini Gluten Free Carrot Cakes
Coconut Cupcakes With Toasted Coconut Frosting
Crème Egg Peanut Butter and Nutella Cake
Peeps Candy Cake
Jelly Bean Cookies