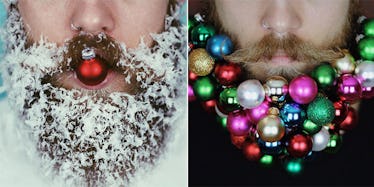 The 'Glitter Beard' Guys Just Made Their Beards Even More Festive (Photos)
There are tons of ways you can make a holiday-inspired style statement.
You can break out a couple ugly Christmas sweaters, flex some flashy glitter brows or, you know, go all out and turn your facial hair into a full-on spectacle of Christmas spirit.
Not too long ago, we introduced you to the glitter beard gurus, Brian Delaurenti and Johnathan Dahl of the popular Instagram account The Gay Beards.
It turns out glitter isn't the only thing these bearded BFFs are using to make their facial hair look extra festive this season.
Delaurenti and Dahl recently decided to give the world one of the greatest Christmas presents of all time: badass holiday beards.
That's right. For their latest project, dubbed "The 12 Gay Beards of Christmas," these men set out to make the holidays even merrier by decking their facial hair out in all sorts of amazing Christmas decorations.
So far, we've seen them brighten up their beards with a bunch of baubles, top their facial tresses in tinsel and turn their scruff into a snowy winter wonderland.
These bearded beauties are only on day three of "The 12 Gay Beards of Christmas," so keep an eye on their Instagram to see what other insane styles these guys have in store.
Take a look at the pictures below to see some beards that will put you in the Christmas spirit.
Forget the ugly Christmas sweaters.
This season, The Gay Beards are on a mission to make the holidays extra merry...
...with their latest project, "The 12 Gay Beards Of Christmas."
So far, we've seen them rock a variety of dazzling holiday beards...
...and load up their facial hair with all sorts of festive objects.
Seriously, these decorated beards will put your Christmas tree to shame.
Citations: The Gay Beards (Instagram)