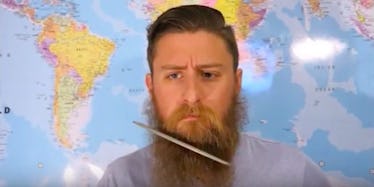 This Epic Stop-Motion Video Brings Guy's Beard To Life, And It's Insane
Thanks to the growing lumbersexual trend, we've all seen our fair share of men with seriously impressive facial hair.
But you know what's even better than having a big-ass hipster beard? Sporting some mesmerizing scruff that can perform magic tricks, of course!
That's right. The blog Wanderlust Satisfied recently posted a clever video on YouTube, titled "The beard, before and after," which features a man with a beard that clearly has a mind of its own.
In the stop-motion video, you can see this unruly beard comb itself before its owner gets busy pulling all sorts of knick knacks out of his facial hair, ranging from a pocket knife and a corkscrew to a super long spoon.
But that's not all. Then, this dude blows our minds by pushing a lime into his scruff that goes in whole and after a couple pokes with a knife, emerges from his bearded abyss as perfectly sliced wedges.
After using the same process to peel a lemon, his facial hair starts to get a bit feisty and begins twisting itself into all sorts of hilarious braided styles before this guy finally has enough and grooms his bushy beard back into shape.
Check out the video for a closer look at this delightful stop-motion short.
Citations: The Beard, Before and After (YouTube)