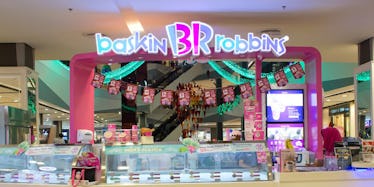 Baskin-Robbins Just Added Two Pizzas To Its Menu And They Look Nuts
Shutterstock
In our society's never-ending quest to create the unhealthiest food known to man, Baskin-Robbins is introducing donut ice cream sandwiches and dessert pizzas.
Baskin-Robbins looked at pizza and was like,
Man, this is pretty bad for you already, but you know what would make this EVEN MORE TERRIBLE FOR YOUR BODY? A pound of sugar!
They're called "Polar Pizzas" and they feature cookie crusts and ice cream "cheese" and are topped with the stuff of your dentist's nightmares. I'm talking about frosting, I'm talking about sprinkles and, of course, I'm talking about cookies.
The pizzas come in two flavors: a cookie one and a chocolate one.
This is going to take your pizza addiction to a whole new level.
I can feel the onset of diabetes just looking at these slices.
And let's not forget about the donut ice cream sandwiches!
The pizzas should be hitting Baskin-Robbins' shelves soon, so keep an eye out for them. Personally, I can't wait to eat an entire pie in one sitting and then hate myself for the next week.
Citations: Baskin Robbins Adds Pizza (Cosmopolitan)