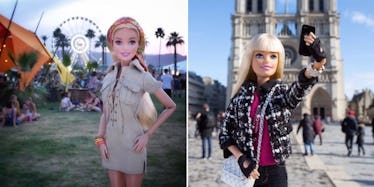 Barbie Has Her Own Instagram Account And She Isn't Afraid To Flex (Photos)
Everyone knows Barbie pretty much has the perfect life.
From her unattainable physique and impeccable outfits to her hot boyfriend and her seemingly endless variety of talents, that blonde bitch seems to have it all.
Therefore, it should be no surprise Barbie has an insanely impressive Instagram account where she proves her "life in plastic is fantastic."
This doll flexes so hard, she puts all of those Russian supermodels to shame.
Take one look at her impressive snaps and it's not hard to see Barbie completely dominates the style scene.
Once you realize a plastic toy dresses better than you, you'll probably start to reevaluate your closet... and your life.
She's the baddest bitch on Instagram.
She makes Coachella look super chic...
...and she obviously woke up in her tent like that. #Flawless
When Barbie isn't riding her red convertible around LA...
Or lounging by the pool...
...you can find her shopping at Barneys.
Shopping for designer clothes is her cardio.
She jets off to Paris Fashion Week...
London Fashion Week...
...and Milan Fashion Week.
And she only wears the best couture, obviously.
Barbie's fashion is always on fleek.
She effortlessly owns the red carpet look...
...and she gets invited to the most exclusive parties in town.
Barbie only hangs out with chic socialites...
...and she brunches like a goddamn boss.
If that's not enough to make you jealous, she also has a smoking hot boyfriend who goes shopping with her and carries all her bags.
She even has the closet you've been dreaming of since you were little.
Ugh, is there any outfit that doesn't look good on this girl?
She even makes selfies look stylish.
Citations: Fashion-Week & Coachella: Barbie hat einen eigenen Instagram-Account (Klon Blog)