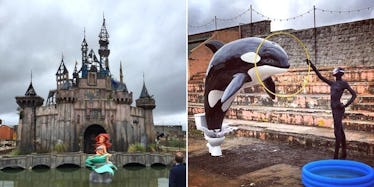 Banksy's Newest Piece Of Art Is A Depressing Parody Of Disneyland (Photos)
If you know anything about Banksy's artwork, you know the street artist is always pushing the envelope.
For the last couple of weeks, rumors floated around the Web about the possibility of the English artist creating a parody of Disneyland, and now, it's safe to say the rumors were true!
The parody comes in the form of a theme park located in Weston-super-Mare -- not too far from Banksy's hometown of Bristol -- called Dismaland.
According to Highsnobiety, the artist transformed what used to be a swimming pool called the Tropicana into a Disneyland-inspired park with an artistic, eerie twist. In other words, Bansky's latest art project is epic.
The Dismaland website reads,
Are you looking for an alternative to the sugar-coated tedium of the average family day out? Or just somewhere a lot cheaper? Then this is the place for you. Bring the whole family to come and enjoy the latest addition to our chronic leisure surplus.
Check out the photos below for a closer look at the theme park!
Banksy's latest art project is a parody of Disneyland.
As you can see, Banksy's Dismaland comes with a bit of a dark twist.
Not to mention, there's some pretty mind-blowing art on display from Banksy himself, as well as other artists including Damien Hirst, Jenny Holzer and Jimmy Cauty.
From August 22 to September 27, visitors will be able to witness 18 attractions set up where an old swimming pool called the Tropicana used to be.
From the looks of it, things are already getting weird at the theme park.
In fact, because things get so weird, Dismaland is not recommended for children. That's when you know it's awesome!
Oh, did I mention there might be a Shamu lookalike present?
The entire amusement park will make you think.
After all, isn't that what good street art is supposed to do?
Check out a map of the park below for a closer look.
Citations: Banksy Officially Unveils Dismaland Theme Park (Highsnobiety)