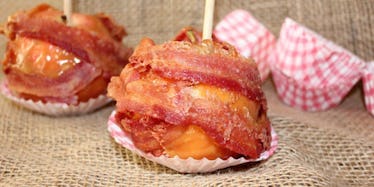 These Bacon-Wrapped Caramel Apples Just Made Fall Even More Incredible
When it comes to cooking up some insane food porn, bacon is usually a key ingredient.
But then again, that shouldn't be too much of a surprise since this almighty meat is just one of those magical things that make everything taste a million times better.
Even caramel apples.
That's right, your favorite fall treat just got a badass bacon makeover courtesy of the evil geniuses over at Oh, Bite It.
You can ditch the boring, naked caramel apples for mouthwatering snacks dressed up in sizzling, savory ensembles.
I'll admit, wrapping fruit in a few slabs of bacon does sound kind of strange, but surprisingly, these things actually look pretty damn delicious. The best part is you can even whip these babies up all by yourself.
Just follow the step-by-step directions graciously provided by Oh, Bite It and within no time, you'll have a mountain of delectable bacon-wrapped treats just waiting to be demolished.
Take a look at the pictures below to see this amazing autumn snack.
If you thought caramel apples with sprinkles were fancy, you haven't seen anything yet.
Behold, Bacon and Caramel Apples.
Created by Oh, Bite It, this recipe transforms candy apples into sweet and savory treats by swaddling them in delicious bacon strips.
To make these glorious snacks, you'll need apples, bacon, caramel and candy apple sticks.
Then, all you have to do is melt the caramel...
Submerge your apples in that gooey goodness...
Then place them on some wax paper for a couple seconds to cool...
...before smothering each one in a layer of crispy bacon. Yum!
Citations: Bacon-Wrapped Caramel Apples Are The Ultimate Fall Treat You Never Knew You Needed (Bustle)