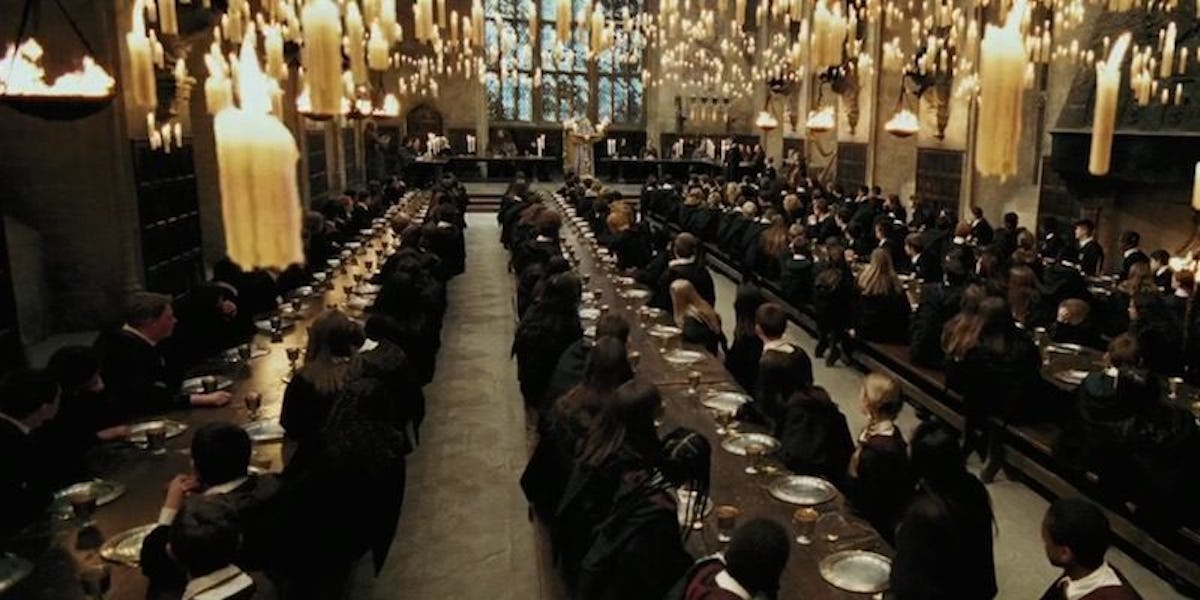 Attention Muggles: You Can Now Have Dinner In The Hogwarts Great Hall
Warner Brothers
When I first read the "Harry Potter" series as a wee little nugget, I remember being completely captivated with the Great Hall, its Enchanted Ceiling, the floating candles -- the magically-appearing food!
It was my dream to dine in Hogwarts' mystical hall of fantastic feasts, albeit a dream I never expected to be realized.
As it turns out, some dreams were meant to come true: This week, Warner Bros. announced it's opening up the Great Hall for a special one-night-only feast on December 3, 2015. Visiting guests will be treated to a supper fit for only the most sophisticated sorcerers before exploring the castle in a special late-night tour.
Starting at 6 pm, the feast will begin with hors d'oeuvres and drinks, followed by a two-course meal, dessert and, of course, Butterbeer. Indeed, ghostly tablemates seem to be the only thing missing from the plans for the magical evening, which concludes promptly at midnight.
All non-magic folk wishing to partake in the evening's festivities will be subject to a $350 Muggles' fee (the proceeds of which are being used to pay all those hard-working house elves in the kitchen).
Interested? Head to the Warner Bros. Studio Tour website to make a reservation, and don't forget to break out your best dress robe for the occasion. This will be a night to remember.
Citations: You can have Christmas dinner at Hogwarts this year for a price (Mashable)