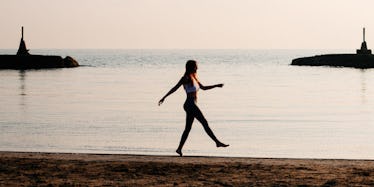 These Artists Created An Amazing Pier That Lets You Actually Walk On Water
Susana Ramirez
I think everyone can agree that being able to walk on water would be incredible.
In Italy, artists Christo and Jeanne-Claude have made that dream a reality. The two designed and created an amazing pier that lets people actually walk on water.
The installation, which is now open to the public in Italy's lake Iseo, is made up of yellow fabric that wraps around a floating dock. It hovers right above the surface of the water, moving with the gentle waves.
The nearly 110,000 square feet of yellow fabric starts in the streets of the towns it connects to and leads up to the lake, making people feel like magical beings as they step onto a body of water.
The Floating Piers are open from June 18 to July 3 (depending on the weather), and it's completely free and open 24 hours a day.
A bird's-eye view shows that the floating pier connects Sulzano to Monte Isola. For the next two weeks, people can literally just walk across a lake to get to the other side. Amazing. It also makes it possible for people to walk to the island of San Paolo.
I'm booking a flight to Italy right now.
The piers are held in place by 200 anchors weighing 5.5 tons each...
So you can just take a stroll across this lake...
...or maybe just hit up this little island.
The Floating Piers installation is made up of 220,000 cubes.
The view from above is incredible.
It looks amazing at night too.
People can also sit on the gently moving pier.
It's a great place to smooch.
The fabric also covers 1.5 miles of pedestrian streets.
It's a popular spot for obvious reasons.
The yellow ribbon is illuminated by the sun, making The Floating Piers simply stunning.