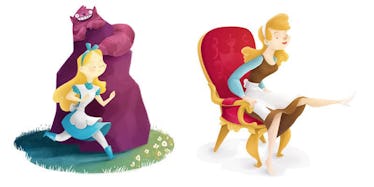 Artist Makes Awesome Illustrations For Every Animated Disney Movie (Photos)
When it comes to tackling a big project, commitment is key.
If there's one person who knows a thing or two about dedication, it's Rafael Mayani.
Recently, this devoted Disney fan set out to watch all of the Disney movies in the order they were released and create a series of awesome illustrations based on each film.
The young Vancouver-based illustrator started out with Disney's first feature film, "Snow White and the Seven Dwarfs," and made his way all the way up to "Big Hero 6," which was released in 2014.
This illustration series includes over 50 works of art inspired by these magical movies, and this drawn-out project took Mayani over a year and a half to complete.
According to Mayani,
I didn't have much experience with illustration, so each movie took a long time to complete. But I was really motivated, so it never felt like a burden or anything.
The talented 26-year-old even took his Disney endeavors a step further by posting some pretty interesting movie facts along with each illustration on his website.
Take a look at the pictures below to see some of his incredible Disney movie illustrations.
"Snow White"
"Alice in Wonderland"
"Chicken Little"
"Cinderella"
"Dumbo"
"Frozen"
"The Jungle Book"
"Lilo and Stitch"
"The Little Mermaid"
"Mulan"
"Peter Pan"
"Pinocchio"
"Pocahontas"
"The Princess and the Frog"
"Robin Hood"
"Sleeping Beauty"
"Tangled"
"Tarzan"
"Treasure Planet"
"Winnie the Pooh"
"Wreck-It Ralph"
"Big Hero 6"
"Big Hero 6"
Citations: Determined Artist Makes a Beautiful Illustration for Every Single Disney Film (My Modern Met)