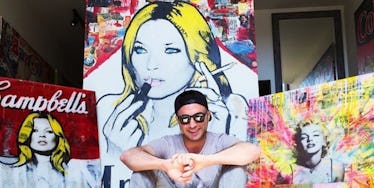 This Artist Creates Absolutely Amazing Masterpieces For Celebrities (Photos)
Have you ever wondered where all your favorite celebrities get their art from?
They are definitely NOT going to IKEA.
When you own multiple lavish properties and need to furnish each of them with fine art that speaks to you, you go to Jojo Anavim.
The New York-based artist, who also goes by his artist name JA Visual, has been perfecting his craft ever since he worked as the head creative consultant for a huge hospitality company not too long ago.
As he worked, he found time on the side for his one true passion: art.
Then, when Anavim was approached by an unnamed, world-renowned art collector who asked him to commission four original pieces, he took his craft to the next level.
His inspiration? Getting people to react.
In a recent interview, Anavim told Elite Daily,
I enjoy seeing people react to my work. Bringing positive emotions out of people and making them smile really fuels me.
At just one glance at his work, it is evident each one of his pieces is a certified conversation-starter. He said,
A lot of my work has a subversive playfulness to it that a lot of people can relate to.
Other inspirations include the work of Robert Rauschenberg, Jasper Johns, and Disney animator Al Baruch, the genius behind the characters Mighty Mouse and Captain Hook.
These days, his work can be found along the walls of your favorite athletes, celebrities and artists.
Meet Jojo Anavim, a New York-based mixed media artist known for crafting fine art that speaks volumes.
His artistic process includes various techniques such as hand-painted acrylic and collage.
Other techniques include screen-printing and aerosol.
Art isn't considered a new passion for Anavim. At an early age, he was enrolled in a cartooning program created by Disney animator Al Baruch.
After years of mastering his craft, his art is now gracing the walls of various, lavish homes...
And owned by celebrities around the globe including Detroit-based rapper Big Sean...
NBA star Amar'e Stoudemire...
Nightlife legend David Grutman...
World-famous DJ and EDM producer Alesso...
...and Atlanta-based DJ and rapper Lil Jon.
His art even made an appearance on Bravo's "Million Dollar Listing Los Angeles."
Speaking of TV shows, even Charlie Sheen knows what's good!
Not to mention, he even joined creative forces with other great artists like Mr. Brainwash...
King Saladeen...
...and Peter Tunney.
Anavim also blessed LAVO Nightclub with custom designed Dom Pérignon bottles. Can you handle the luxury?
So, what's next for Jojo Anavim? Expect to see more of his work in more places! Anavim also told Elite Daily a potential collaboration with a high-end clothing line is in the works.
I mean, who wouldn't want to wear this on a fine cotton tee?!
When asked which of his pieces is the most special to him, Anavim revealed, "Being from New York I've always had a fascination with the history of the art scene here...I decided to make a piece paying homage to those times with my own twist. Not sure if I'll ever sell it."
For frequent updates and/or inquiries, be sure to follow @JAVisual on Instagram.