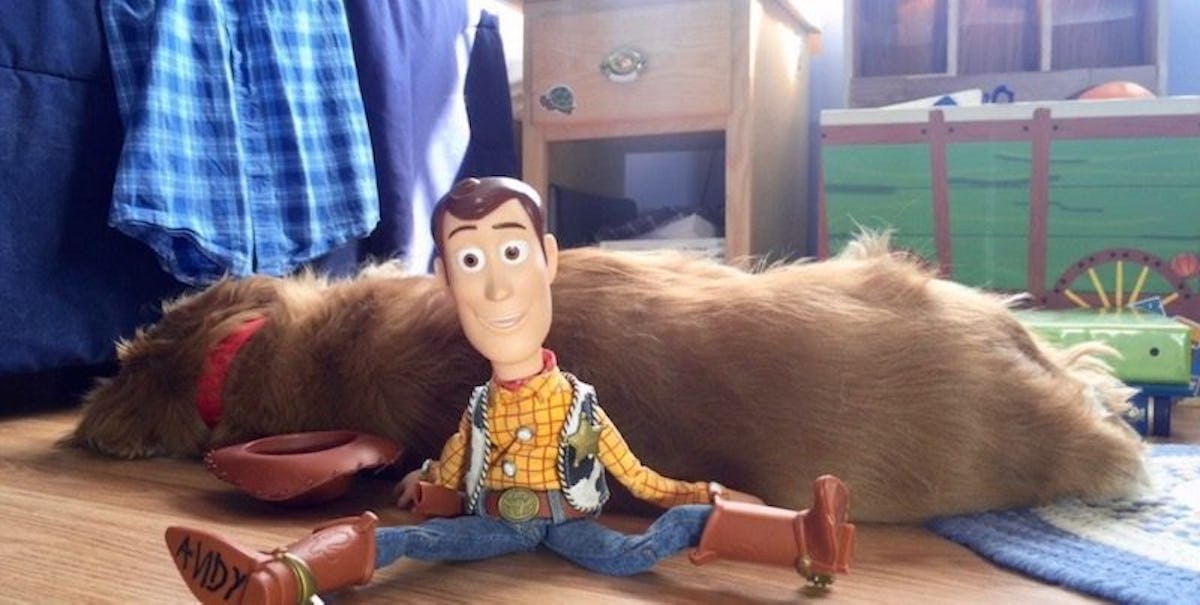 'Toy Story' Fan Creates An Incredibly Detailed Replica of Andy's Room (Photos)
How do you show your appreciation for Pixar's 'Toy Story' movie series?
Growing up, I'd pop the VHS tapes into the VCR and watch the films back-to-back for hours on end. That alone was more than enough to express my everlasting love for this collection of animated gold.
But believe it or not, there are bigger "Toy Story" fans out there.
Take this blogger who goes by The Pixarist on Tumblr. The die-hard "Toy Story" fanatic decided to team up with friends to recreate Andy's room down to every last detail.
The result? You won't believe your eyes.
In the project's description, the blogger wrote,
One of my favorite aspects of Andy's room in 'Toy Story 3' is his door. I just love the dartboard, scattered stickers and posters on it. It really gives off the teenager vibe.
I mean, if you didn't want Andy's room growing up, you probably wanted the room depicted in "Hey Arnold!" but regardless, this is sure to rehash memories from your childhood.
Not to mention, finding all of these specific details couldn't have been easy at all.
The blogger said,
I still can't believe we managed to find that dart board… and for only $5 at a thrift shop. Score!
Check out the photos below for a closer look!
Remember Andy's room from "Toy Story"? Of course, you do. It's the bedroom all kids wish they had growing up!
Some "Toy Story" fans decided to take matters into their own hands and recreated Andy's room from scratch!
While focusing on every little detail, Tumblr blogger The Pixarist recreated the legendary room.
The room includes everything from the posters on the walls to the crescent moon on Andy's headboard.
Does this look familiar?
As you can see here, there were a lot of things to pay attention to during the process.
According to the blog, the room took about two years to complete with the help of a few friends.
The replica is so good, you can't even tell the difference between stills from the movie and real-life photos!
Hint: This is the real deal.
These "Toy Story" fans even made sure to include loose props spotted around Andy's room throughout the film.
Ah, can't forget the toy chest!
Forget about time traveling back to my childhood. I'll take one of these rooms two years from now!
Citations: Some super-fans built an exact replica of Andy's room from Toy Story 3 (Metro)