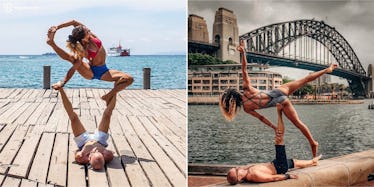 AcroYoga Couple Travels The World And Proves Love Can Take You Anywhere (Photos)
Instagram
There's no better person to conquer the world with than your soulmate.
Remember when we showed you the adventures of Jay Alvarrez and Alexis Ren?
Well, those two aren't the only ones showing the world love shouldn't slow you down.
Claudine and Honza Lafond are another couple capturing awesome photos of epic journeys across Earth.
However, these guys aren't your average gawking tourists.
When they're not teaching AcroVinyasa at their own studio, YogaBeyond, or leading seminars in exotic locales, you can find these two defying gravity across every continent and posting photos of the adventures on their Instagram account.
It's not hard to see this dynamic duo is probably one of the most badass AcroYoga couples around, and seeing Claudine and Honza show off their unbelievable skills will probably inspire you to take your yoga to the next level.
Take a look at the pictures below to see this awesome couple.
Meet Claudine and Honza Lafond.
These two love AcroYoga almost as much as they love each other.
Since meeting in 2007, they've been on a mission to inspire people to practice yoga...
...by taking pictures of their insane poses as they travel all over the world.
They even have their own studio, YogaBeyond, where they teach AcroVinyasa.
When they're not mastering their moves at home in Australia...
...you can find them hanging around at yoga festivals...
...or showing off some awesome moves at workshops across every continent.
Over the years, they've taken their mind and body endeavors everywhere.
They've posed in front of the Arc de Triomphe in Paris...
In Barcelona...
Berlin...
The jungles of Bali...
The Tirta Gangga Water Palace...
The Brooklyn Bridge...
...and even on Cockatoo Island.
But, that's not all. They've also posted pics of their poses in London...
...and alongside the Eiffel Tower.
Plus, they've balanced each other out in Pisa...
...and posed next to bubbles is Prague.
These yogi-soulmates never let love slow them down from seeing the world from new perspectives.