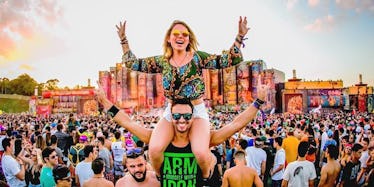 8 Amazing Reasons You Definitely Shouldn't Miss TomorrowWorld 2015
Brace yourselves. The only music festival we'll ever really need in America is back in just a matter of days!
TomorrowWorld is set to return to the Chattahoochee Hills in Georgia on Thursday, September 25.
The three-day festival is expected to reel in its biggest crowd yet thanks to a star-studded lineup, which we announced back in August.
From Afrojack, Armin van Buuren and Bassnectar to The Chainsmokers, David Guetta and Hardwell, these heavy-hitting DJs are sure to add more fuel to the fire.
In addition to the lineup, TomorrowWorld 2015 will be an entirely new experience for festival-goers thanks to a slew of new additions throughout the 8,000-acre venue.
After all, who wouldn't want to party day and night at one of the six brand new stages offered at this year's festival?!
And if that isn't enough, the 21 and over event will be partnering with Miami's LIV Nightclub to bring back the Skyloft, an exclusive VIP area within the festival offering breathtaking views above the madness of the main stage.
But what else will TomorrowWorld 2015 have in store for over 160,000 festival-goers this weekend?
Check out these eight good reasons not to miss out on the madness!
Experience the festival's first-ever sit-down restaurant.
As if TomorrowWorld couldn't possibly get any better, the festival will introduce its first-ever sit-down restaurant this year.
Partnering with Top Chef Kevin Gillespie, the restaurant will be serving up a mouthwatering assortment of three dining experiences.
Entrees include chopped whole hog BBQ, pulled BBQ chicken, fried chicken, mushroom and farro cabbage dumplings and more.
The restaurant, which will be overlooking the Main Stage, will feature a seasonal menu changing on a daily basis throughout the course of the festival.
The best part? Everyone's invited -- meaning you don't have to be a VIP guest to dine!
So when you get hungry, you know exactly where to go.
The epic LIV Skyloft is back.
One of the best investments you could make at TomorrowWorld is securing yourself a VIP entry.
Why? Well, the answer to that is quite simple. Miami's LIV Nightclub is returning to the event with the VIP Skyloft.
VIP guests will be able to enjoy elevated views of the main stage as they relax in a private, shaded area.
If you plan on hitting up TomorrowWorld with eight or more people, you might want to book a spot. Choose between three or four bottles of champagne along with three or four bottles of the finest spirits and dance the night away.
Why limit yourself when you can live like festival royalty for a few days?!
Cool off and chill by the TomorrowWorld pool.
If you're not looking to do it big with the VIP Skyloft, maybe the comfort VIP guest entry is more your speed.
Either way, you're in great hands!
I mean, what more could you possibly ask for aside from wanting to chill poolside with your friends and good vibes for the weekend?
Comfort VIP guests will get to take a dip in the pool as well as enjoy complimentary hors d'oeuvres.
There you have it: You can indulge in quality pool party action, get your snack on and watch the madness from a bird's eye view.
Oh, and did we mention the air-conditioned bathrooms?!
Experience six all-new, mind-blowing stages.
We'd consider this one of the top three most important reasons you're not going to want to miss this year's TomorrowWorld event.
The festival's third annual event will feature six all-new stages. Each stage will feature its own theme curated by record labels like the Australia-based Future Classic, Hospital Records and house producer The Magician.
According to Your EDM, one of the must-see stages is The Boat, the only waterfront stage at the festival, and it's set to blow the others away.
Not much information on the specifics of each stage has been revealed, but we're sure festival-goers will have something to talk about in the morning!
Activate your body at TomorrowWorld's first festival spin studio.
Looking for new ways to burn all of that barbecue off without having to dance endlessly?
As you can probably tell, this year's festival has a lot of firsts in store.
Adding to that list, TomorrowWorld will be introducing its first-ever festival spin studio where festival-goers will be able to engage in yoga, Zumba, pilates, meditation sessions, speed dating and much more.
The activities, located within the DreamVille community, are made possible by TomorrowWorld's partnership with Cyc Fitness.
Interested in having a productive fitness day? All you have to do is check out the schedule to find a session!
Witness the blood moon up close and personal.
The folks over at TomorrowWorld are known for the ability to craft magical environments out of thin air. But one of the spectacles taking place on the very last night of the event will be the work of Mother Nature herself.
Festival-goers will able to witness the blood moon, a total lunar eclipse, on September 27.
According to EDMTunes, the eclipse is set to take place until 1:22 am, during Armin van Buuren's last set. Now might be a good time to make sure you have an elevated view above the crowd!
Hey, it's not every day you're able to witness a blood moon.
As a matter of fact, we'll have to wait until January 2018 for the next one!
Enjoy breakfast and live DJ sets at the same time.
Waking up after a long day of partying is easier said than done.
Even after your average bar outing, things aren't necessarily walks in the park the next day. We've all been there.
And for the three-day festivities this weekend in the Chattahoochee Hills, TomorrowWorld's got you covered when it comes to revitalizing your life and starting your day off on the right foot.
Two words: Breakfast Beats.
Every morning within the DreamVille community, festival-goers will be invited to enjoy mimosas, fresh smoothies, coffee and the usual breakfast staples, accompanied by a live DJ set.
If that doesn't prep you for the madness, nothing will.
Step your festival fashion up in the new Fashion Bazaar marketplace.
Your festival gear says everything about you.
Don't be that person saying, "I don't want to be here," without actually saying it. Make sure your outfit is up to par!
Luckily for festival-goers, TomorrowWorld teamed up with Danielle Bernstein of We Wore What to create a marketplace where people can go and put together the perfect festival outfit.
Whether you're looking for the perfect flower crown or the perfect jewelry to go with your existing outfit, three different shops will be there to support your fashion needs.
So, there you have it! A jam-packed DJ lineup, a VIP pool party, six mind-blowing stages, quality chefs serving the best meals and plenty more to make up a magical community you're never going to want to leave!
And even with all that, you know there will be even more in store. But what exactly? Time will certainty tell. Prepare for the madness!