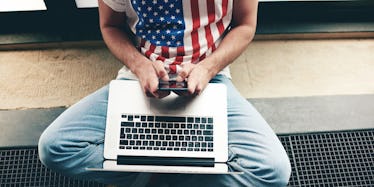 7 Gadgets You Need To Survive This Semester At College In Style
Shutterstock
It's officially time to get back to school. If you're anything like me, starting a new semester at college comes with a fair share of nerves.
Not only about whether your new classmates will like you or if you'll pass the year, but also if you've remembered everything you need to get through.
A new semester means it's the perfect opportunity to stock up on some new gadgets and gizmos that'll make you feel good about your year ahead and help you study in style.
Google Chromecast
This handy device plugs straight into your HDTV and allows you to stream media from mobile, tablet and laptop devices. It's budget-friendly at $35 and you can install apps like Spotify, NFL Sunday Ticket, YouTube, Netflix and HBO Now. Using your phone as a remote makes for a perfect "Netflix and Chill."
You can also use the device to help you with your studies. Chromecast comes with full support for Google Docs and Slides, which means you can take your work with you.
Echo Smartpen
Got an intense lecture lined up? The Echo Smartpen not only records everything you hear, but it also translates your notes for easy transfer to your PC or Mac. This handy gadget makes sure you don't miss out on any vital information during your classes. At $130 for the 2GB version, this may just be the best investment you'll make all year.
The 5TH
What student doesn't like to look stylish? The 5TH makes luxurious unisex accessories and watches. The company's range of products are only available for a limited time, meaning anything you purchase will be hard to replicate by any of your fashion admirers. Nothing in the line tops $150, so it's an affordable statement.
Love With Food
It's important to remember to stay well-fed during your study sessions. Love With Food is a tasty subscription box service full of new and unique snacks. Everything included is organic, all-natural, GMO-free or gluten-free, so you know you're getting the good stuff. With every box, Love With Food also donates to a food bank. Boxes start at $7.99.
Amazon Echo
This fancy little device can be used as a speaker and can read audiobooks back to you. Priced at $179.99, the Amazon Echo will play all your music from your favorite apps with 360-degree omni-directional audio. It can also be completely controlled by voice. With the help of an app, Echo will also control lights and switches. Any guest would be impressed with the versatility of the device, and it will also serve as the ultimate party-pleaser at your next house party.
Pressure Cooker
As students, we're not particularly well-known for our dietary selections. Forget about the microwaveable meals and invest in a pressure cooker, which is an easy option for making pretty much anything. Cook soups, chili or casseroles and impress your friends with your culinary expertise. The 6-in-1 model from Instant Pot is available for around $99.95.
Portable Power Bank
If you're addicted to Snapchat or Twitter, you're going to want to consider a portable power bank. Knowing you have a backup if your battery dies is perfect for long trips away from your dorm. Simply charge it up and you're ready to go. The JETech power bank goes for $16.99 and is compatible with Android and Apple devices.