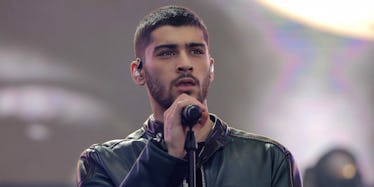 Zayn Malik Just Revealed Who Told Him To Quit One Direction
REX/Shutterstock
When Zayn Malik broke away from One Direction, the world was left stunned.
Fans had no clue what to think. There was no closure. But now, a year-and-a-half later, we finally have answers.
The "PILLOWTALK" singer revealed who told him to quit 1D, and it's probably the weirdest thing I've ever heard.
Glamour magazine sat down with Zayn and asked him about what made him decide to focus on his solo career. The 23-year-old replied,
An alien spoke to me in a dream.
Oh, OK! Got it. Thanks, Zayn. This is what I've waited months to hear. WTF?
Initially, Zayn explained the real reason he decided to leave the band. He said,
I'd like to apologize to the fans if I've let anyone down, but I have to do what feels right in my heart. I am leaving because I want to be a normal 22-year-old who is able to relax and have some private time out of the spotlight.
That's what the alien told him, you guys. Gigi Hadid, are you aware your boyfriend communicates with extraterrestrial beings?
Zayn, I hate you but I love you. That's all I have to say.
Citations: Zayn Malik Quit One Direction (Us Weekly)