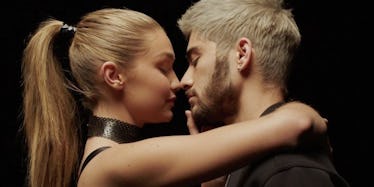 Zayn Malik And Gigi Hadid Are All About The Twitter PDA After New Video
Zayn Malik's first solo single, "PILLOWTALK," dropped today, and he's making sure the focus stays squarely on his debut.
Gigi Hadid, Zayn's romantic co-star in the music video, shared a tweet at 9 am.
In it, the model posed an important philosophical conundrum we've all faced.
Zayn swiftly responded to remind the world, hey, it's "PILLOWTALK" day.
Full disclosure: I am not entirely sure how Zayn's response pertains to Gigi's original tweet, but fans agree it's adorable.
Gigi replied, upping the ante for saccharine public flirtation.
Are they dating? Are they intercoursing? Are they staging all of this for publicity?
Whose flower vag is this?
Answers, Zayn, I need them.