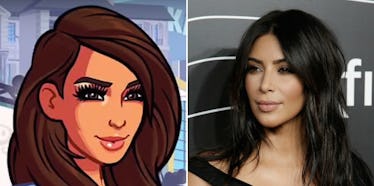 People Spent A Sickening Amount Of Years Playing 'Kim Kardashian: Hollywood'
YouTube/REUTERS
If I had a nickel for every hour people played "Kim Kardashian: Hollywood," Kim Kardashian West's mobile game, I'd have about $13 million. Do you have any idea how many nickels that is and how many hours of gameplay that is?
Well, according to a new report from Wired, people have played 30,342 years of "Kim Kardashian: Hollywood." Yes, you read that correctly. With more than 45 million downloads in two years, the game accumulated a little less than 16 billion minutes of gameplay, according to Wired's tally.
Just to put that amount of time in perspective, Neanderthals were just becoming extinct and stone blades were cutting-edge technology. So yeah, 30,000 years is an absurd amount of time, especially for a game that only recently turned 2.
According to Complex, all the gameplay earned Kim Kardashian $40 million out of the game's $200 million in revenue, so Kim's clearly earning way more than a nickel for every hour played.
But really, are we all so surprised at the sheer amount of hours people are putting into Kim's game? As of today, Kim Kardashian West has 75.5 million Instagram followers, 46.3 million Twitter followers and almost 29 million likes on Facebook.
Plus, I mean, "Kim Kardashian: Hollywood" is everywhere...
Given the size of Kim's following and the fact that it only continues to grow, I can't even imagine how much money Kim will bring in from her next venture or how much time people will spend on it.
Citations: People Have Spent 30,342 Years in Kim Kardashian's Game [Deep Sigh] (Wired), Upper Paleolithic - Modern Humans Take the World (About.com), People Have Spent Over 30,000 Years Playing 'Kim Kardashian: Hollywood' (Complex)