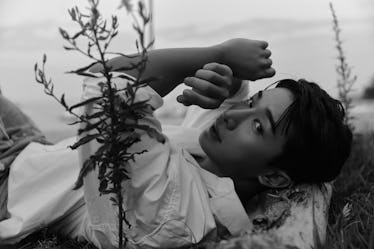 Wonho Just Announced His First Single Album, & It's An Instant Obsession
Mark the cal for Feb. 16.
HIGHLINE ENTERTAINMENT
Wonho is releasing new music. On Jan. 21, the artist announced his first single album, Obsession, is coming soon. The project will mark the singer's first Korean release after a busy 2021. Last year, he dropped two mini-albums: Love Synonym Pt.2: Right for Us and Blue Letter. This is in addition to singles like "On The Way" and "White Miracle."
The prolific artist isn't stopping anytime soon. Days after announcing Obsession is on the horizon, Wonho shared the new album's release schedule on Twitter, revealing it will be here this February.
When will Wonho drop his Obsession album?
Obsession will be released on Wednesday, Feb. 16, at 6 p.m. KST. (That's 4 a.m. ET.)
What is the tracklist for Wonho's Obsession album?
Wonho will share the official tracklist for his album on Tuesday, Jan. 26.
What is the teaser schedule for Wonho's Obsession album?
With the tracklist now released, fans can expect a story photo on Feb. 5, 8, and 11. He'll also drop concept photos on Feb. 6, 9, and 12. A music video teaser will then arrive on Feb. 14, aka Valentine's Day. His album preview will be posted on Feb. 15, and, finally, his album will be here on Feb. 16.
February is going to be a busy month for Wonho, and that's an Obsession we can support.
This article was originally published on