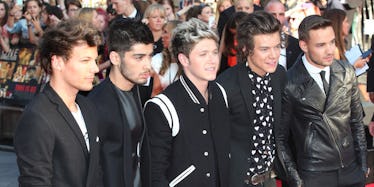 This Woman Is Actually Getting Her Master's Degree In One Direction Studies
Getty Images
From "Harry Potter" to auctioneering to English, bullsh*t college majors are nothing new. But one woman is taking her bullsh*t to an entirely new level by studying UK boyband One Direction.
Millie Lovelock, a student getting her master's degree in English at Otago University in New Zealand, has specifically chosen to devote her research to the relationship between One Direction and their fanbase.
As she explained to i-D Vice,
They consistently stick by their fans. When people say, 'You've got all these crazy girls after you,' they're quite good at saying, 'They're not crazy, they're just excited, they're passionate, they're interested in something.'
For the sake of academic trailblazing, Lovelock is going where no one over the age of 18 is willing to go: the depths of online fan fiction communities. There, she finds evidence for the intense connection between One Direction and their fans, saying,
It's very remote and very helpful. Because as a young woman there's not a lot being provided to you, no one's really talking to you about your sexuality. It makes sense to retreat into this online community where you can talk about this kind of stuff.
Ultimately, Lovelock hopes to expand the minds of the general public and blur the line between high-brow and low-brow entertainment.
As someone who pairs Diamond OG Kush with "The Real Housewives of Beverly Hills," I admire your work, Millie.
Citations: This Girl is Majoring in One Direction in College (Seventeen)