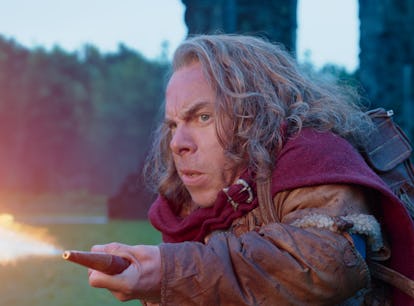 Everything To Know About A Potential Willow Season 2 So Far
©2022 Lucasfilm Ltd. & TM
The original 1988 Willow movie was the last of a small stream of high-fantasy feature films that ranged from the widely-panned Legend starring Tom Cruise to the timeless classic The Princess Bride. Disney+'s attempt to revive the Willow franchise marks one of the few attempts to revive films from that era. And with the Season 1 finale setting up a Willow Season 2, the story doesn't look to be over yet.
Warning: Spoilers for Willow Season 1 follow. Starring Warwick Davis as the titular character, a young would-be magician, the film Willow saw him team up with mercenary knight Madmartigan (Val Kilmer). The two went on a quest to save baby Elora from Queen Bavmorda after the child was prophesied to bring about the end of her reign, assisted by Bavmorda's warrior knight daughter, Sorsha (Joanne Whalley). Although it's has been 25 years since Willow was released, the new series is set only 17 years later. Madmartigan has disappeared, leaving his now-wife Sorsha to raise their twins Airk (Dempsey Bryk) and Kit (Ruby Cruz), alone, along with the now-grown Elora (Ellie Bamber), initially introduced as Airk's girlfriend, Dove. When Airk is kidnapped and brainwashed by an evil Crone, Willow teams with Elona, Kit, Kit's knight-in-training girlfriend Jade (Erin Kellyman), Kit's arranged fiancé, Prince Graydon (Tony Revolori), and Thraxus Boorman (Amar Chadha-Patel), the mercenary who was with Madmartigan when he disappeared.
As all good fantasy quests do, Willow Season 1 ended with the Prince being rescued, though Airk was scarred by the Crone and still affected by her spells. Meanwhile, Graydon disappeared into the Wyrm realm and was believed dead, but the show's final scene showed otherwise.
Here's what is known so far about a potential Season 2.
Willow Season 2 Renewal Updates
Willow is Lucasfilm's first series for Disney+ that is not based on Star Wars. It's also the only one not planned as a limited series that arrived without a Season 2 renewal already in hand. (The Mandalorian, The Bad Batch, and Andor had them before their Season 1 debut, while Boba Fett, Obi-Wan, and Visions were never meant to be renewed.) That makes it hard to gauge how long fans might need to wait to learn if there will be a second season.
Unfortunately, fans of the original Willow have not been kind to the new show, nor have critics. However, showrunner Jonathan Kasdan still has hope. In an interview with ComicBook.com, he admitted he'd begged Lucasfilm head Kathleen Kennedy for a renewal. "We still feel like there are a lot of stories and bigger places to visit," he said.
Willow Season 2 Potential Cast
Should Willow be renewed, the main cast will most likely all return. That starts with the titular Willow Ufgood, played by Warwick Davis; Ellie Bamber would return as Elora Danan, Dempsey Bryk as Prince Airk Tanthalos, Ruby Cruz as Princess Kit Tanthalos, Erin Kellyman as Jade Claymore, Amar Chadha-Patel as Boorman, and Joanne Whalley as Queen Sorsha. Tony Revolori would also return as Graydon, now lost in another world.
Willow Season 2 Possible Plot
The first season of Willow took the familiar tropes of the fantasy adventure and reversed them. Instead of rescuing a princess from another castle, it's a prince. The princess falls for a female knight instead of the dashing prince she's supposed to marry, live happily ever after, etc. Season 2 will probably continue that trend with the rescue of Prince Graydon, again accomplished mainly by a badass female team.
Willow Season 2 Trailer & Release Date Predictions
With no renewal, it's hard to know when a second season will drop a trailer or debut. However, Disney+ has been pretty consistent in bringing shows back on a yearly schedule, so should the show be renewed, fans can probably expect a trailer to arrive around the end of 2023 and a debut around the holidays or early 2024.
All episodes of Willow Season 1 and the original film are streaming on Disney+. Don't have Dinsey+ yet? You can sign up here.