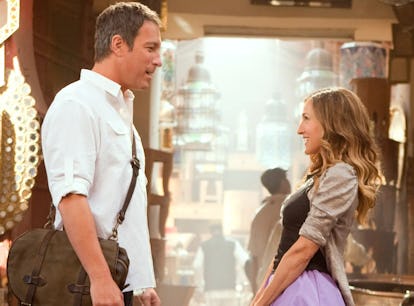 Alert! Aidan Will Reportedly Be In And Just Like That Season 2
Hopefully this isn't a joke again.
Warner Bros. Pictures
Carrie Bradshaw had two major loves on Sex and the City. While her fate with one was sealed in the first season of And Just Like That thanks to a doomed Peloton ride, it looks like she might get a second chance at love with the other in Season 2. John Corbett is reportedly returning to the role of Aidan Shaw for And Just Like That Season 2. Here's what that could mean for the Sex and the City cinematic universe.
On Aug. 19, Deadline reported that Corbett is set for a multi-episode arc in Season 2 of And Just Like That, although HBO Max and Corbett have yet to confirm the news. There's a reason fans are taking this tidbit with a grain of salt: The announcement comes after Corbett previously said he'd appear in Season 1 of And Just Like That, which turned out to simply not be true. In April 2021, Corbett told Page Six, "I think I might be in quite a few [episodes]," but by the season finale, he never once appeared.
Sarah Jessica Parker revealed Corbett was joking when she appeared on Watch What Happens Live in February 2022. "It was fun. It was fun for him to say that," she said. "He actually reached out, very kindly, because he's nothing if not a gentleman, and apologized for doing that as a joke, and then I was like, 'No, no, no, it's a free country first of all.' And I thought it was kind of delightful and kind of fun."
This time around for Season 2, though, fans are hopeful the announcement is not a joke and that Corbett will actually be back as Aidan.
The last time Aidan and Carrie's worlds collided was in Sex and the City 2, when Carrie ran into Aidan during her whirlwind trip to Abu Dhabi. They shared a clandestine kiss before returning to their respective spouses, but who knows what Aidan is up to all these years later. After Carrie cheated on him with Big and then broke off their engagement during the Sex and the City series, he would need to forgive a lot in order to pursue a relationship with Carrie yet again in Season 2 of And Just Like That. But, hey, stranger things have happened in Carrie's world.
Season 1 of And Just Like That is now streaming on HBO Max.