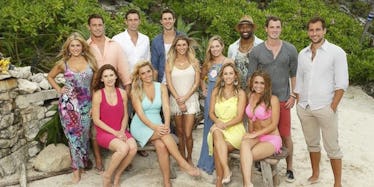 The First Rose Ceremony On 'Bachelor In Paradise' Eliminated A Bunch Of Men
ABC
Welcome back to the craziness, citizens of Bachelor Nation. I know we're barely two weeks into Season 4 of Bachelor in Paradise, but it's already been a crazy ride between steamy dates, unexpected connections, and shocking breakups. As Chris Harrison loves to point out, this looks like the most dramatic season yet. Of course, now that the first two weeks have come and gone, and we've had our first rose ceremony the most important thing to know is who went home on Bachelor in Paradise.
It would be nice if all of the gorgeous bachelors and beautiful bachelorettes got to stay a while longer and find true love, but, let's be real, this is Bachelor universe, and that's just not suspenseful enough. That being said, we had to say goodbye to Vinny, Alex, Iggy, and Nick B. during last night's rose ceremony. *Tries to force a tear.*
I know, I'm only a tad heartbroken, too. Though we were all rooting for the guys to find true love this season, we know the rules, and, knowing some people had to leave, I'm not mad about who didn't get a rose. TBH none of these guys really made any major connections during the first two weeks, so I'm not shocked or mad they're the ones leaving paradise first.
As for the rest of the rose ceremony, there were a few surprises there, too. Taylor picked Derek, uh duh; Jasmine gave her rose to Matt, again... duh; Raven picked Adam, which kinda had me shook; Alexis picked Jack Stone; Lacey picked Diggy; Danielle M. picked Ben; Kristina picked Dean, even though he's a f*ckboy; and Amanda shockingly saved Robby after embarrassing him on national television several times.
I guess we still have a lot of time in paradise, and we know there will be plenty of new contestants showing up, so anything can happen from here on out. But, for now, let's just be glad we still have plenty of our faves around and we'll likely be seeing some pretty steamy romances heat up over the course of the next few weeks to keep our nosey asses satisfied (*cough* Adam and Raven *cough*).