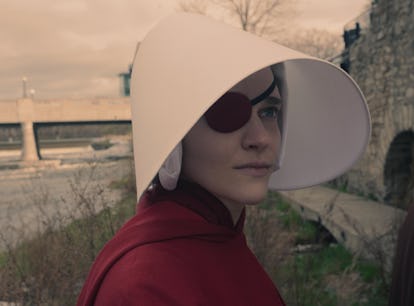 4 Theories About WTF Is Happening To Janine On The Handmaid's Tale
Commander Lawrence can no longer be trusted.
Sophie Giraud/Hulu
The Handmaid's Tale started as a story about a fallen America replaced by Gilead. But since June escaped, the focus has been more on the Canadian side of the border and Gilead policy than the plight of the Handmaids. However, Season 5 did cover Esther's assault by her prospective commander and her attempt to take her own life and Janine's, and the season ended with the Eyes taking Janine away, spawning several theories about where the show will go next.
Warning: Spoilers for The Handmaid's Tale Season 5 finale follow. Since Esther was revealed to be pregnant, the show checked in long enough to reveal the fallout of her assault among the commanders, to Lawrence's benefit. But other than Aunt Lydia promising Janine she would never be assigned to another commander, the story was largely dropped. However, Lydia's favoritism for Janine was called out in the finale, forcing her to break that promise.
She assigned Janine to the commander least likely to assault her: Lawrence. He was marrying the now-widowed Naomi Putnam, the woman to whom Janine bore a daughter when she was previously her handmaid. In Lydia's twisted mind, she was creating a blended family of sorts. But upon hearing that Gilead had attempted to assassinate June, Janine finally found her backbone and told Naomi how much she hated her.
Janine was dismissed from the Lawrence household and returned to the Red Center. But Lydia's inability to handle the situation was quickly moot. The Eyes arrested Janine (and the Martha who told her about the attack on June) at the command of Lawrence, taking them away to parts unknown. Here are a few theories about where she's heading.
The Handmaid's Tale Seasons 1 through 5 are streaming on Hulu. Season 6 is expected in 2023.