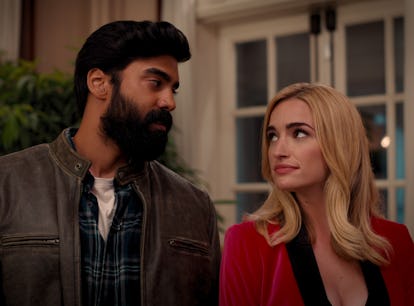 Here's What You Need To Remember About Georgia & Joe's History
Netflix
The past is never fully behind the characters of Ginny & Georgia. Sure, Georgia Miller (Brianne Howey) always tries to start over with a blank slate, but her past has a way of becoming her present. That's the case with Joe (Raymond Ablack), who at first might seem like just the local café owner in Wellsbury. But Ginny & Georgia fans will remember that Joe also has a connection to Georgia's past, and it goes way back.
Warning: Spoilers for Season 2 of Ginny & Georgia follow. When Georgia moved with her kids from Texas to Wellsbury at the very beginning of Season 1, she immediately felt at home at Joe's Blue Farm Café. Georgia and Joe quickly formed a rhythm to their banter and it seemed like Georgia could really relax and be herself around Joe. And it turns out, Georgia was so comfortable around Joe because they've actually known each other for 15 years.
In Season 1, Episode 3, a flashback reveals that the idea to move to Wellsbury was planted in her brain over a decade ago. Teen Georgia (Nikki Roumel) was traveling with a biker gang when she met a boy (Yatharth Bhatt) at a rest stop in Georgia, who shared his sandwich with her. They shared some of their hopes and dreams with each other, including the fact that the boy wanted to have a farm someday and that Georgia wanted a horse named Milkshake. The boy said he was from a nice town called Wellsbury, which sparked a new dream for Georgia. And you probably guessed it already, but that boy was none other than the teen version of Joe.
Even though the audience saw that flashback in Season 1, Georgia and Joe didn't acknowledge their past connection until Season 2. Joe found a pair of Georgia's sunglasses at the café, but the sunglasses were actually a pair Georgia nabbed from Joe back when they met as teens. In the present, Joe returned the glasses and finally confronted Georgia; they both admitted they remember their pivotal meeting all those years ago. Not only that, but Joe also asked Georgia why she sought him out and if she's thought about whether or not there are feelings between them. But Georgia didn't give a straight answer. Instead, she cryptically reminded Joe she's engaged to Paul.
In the Season 2 finale, Georgia needs a little bit of help getting to her wedding to Paul, so Ginny (Antonia Gentry) enlisted Joe to help with transportation to the ceremony. Joe loaned Georgia his horse, which he named Milkshake thanks to the suggestion of teen Georgia all those years ago. At the end of Season 2, Georgia and Joe are still just friends, but it seems like they're finally willing to acknowledge their shared past.
Seasons 1 and 2 of Ginny & Georgia are streaming on Netflix now.