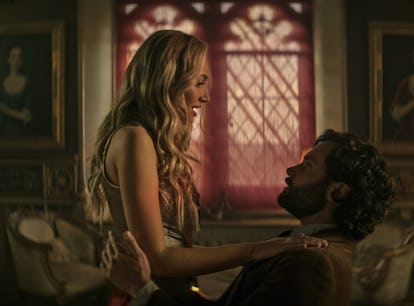 This You Mystery Is Still Unsolved & Fans Need Answers
It just may be the true mystery of Season 4.
Netflix
The first half of You Season 4 solved one major mystery, but there's another more subtle unanswered question that could have a huge impact on the rest of the season. No, it wasn't given the same flashy spotlight as the Eat The Rich Killer, but the mystery around what Joe said to Lady Phoebe the night he met her at Sundry House may still be incredibly important. After all, whatever he said to her seemed to immediately ingratiate him into her circle of friends, a group he clearly wouldn't normally fit in with. And the puzzling comment has been brought up enough that it must be something big.
Spoiler alert: This post contains spoilers from throughout the first five episodes that comprise Part 1 of You Season 4. Joe's relationship with the Sundry House crew was absolutely pivotal to his investigation into the Eat The Rich Killer, and he owes all of those sudden connections to Lady Phoebe. After Malcolm died, Joe shouldn't have had an in with the professor's powerful circle of friends whom he had only just met, but in a strange turn of events, Lady Phoebe took a strong liking to him and insisted he attend all the major parties and events the group went to.
And it's all because of something he said the night he met her. Phoebe repeatedly brought up the remark to Joe, calling it the only time she felt truly seen and even saying it's the most the honest thing she'd ever heard. It was something so moving, that Phoebe told Adam that Joe has a "power" to say "just the thing."
One problem: Joe got so drunk that night at Sundry House that he blacked out and can't remember what he told Phoebe.
Whatever this comment was sure sounds like it could become a big deal if it's revealed in Part 2. After all, it's pretty rare for Joe to be super honest — he's used to constantly lying or putting on a facade to cover up his various murders. What if he actually confessed his whole truth to Phoebe that night with his inhibitions down for once? Of course, any normal person would recoil from a serial killer admitting to his bloody crimes, but Phoebe actually seems like the type of person who's be charmed by someone killing in the name of love. Could Phoebe actually end up being the key to stopping Joe Goldberg for good?
The mystery statement has been brought up multiple times throughout Part 1, so fans should expect some sort of payoff in Part 2, which hits Netflix on March 9.