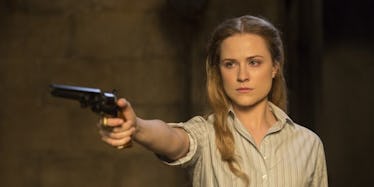 These 'Westworld' Clues From Comic-Con Promise An Even Bloodier Season 2
John P. Johnson/HBO
After leaving fans on an explosive note in the season finale, Westworld Season 2 is making us wait until 2018 to see what will happen now that the Hosts are taking revenge on the humans who have tortured them for so long. Luckily, we got a sneak peek at San Diego Comic-Con, which revealed clues about Westworld Season 2 at both the series' panel and its (very intense) activation. And, if you can believe it, things are only going to get bloodier.
By now, many people have seen the trailer that premiered during the HBO series' Hall H panel (if you haven't, you can watch it below), which features a few new telling scenes. The short promo shows Dolores on a killing spree, hunting down what appears to be guests while Delos employees search the body-filled park for rogue Hosts.
The teaser also shows the carnage of the finale, as Lee Sizemore and Maeve find countless dead bodies at the corporation's headquarters. And of course, there's that smile. The footage ends with a close-up on the Man In Black's blood-covered face as he puts on his hat and slowly smiles.
All of these scenes point to an even more intense second season, but they're not the only hints to come out of SDCC. HBO also hosted Westworld: The Experience, an activation that took guests into Westworld itself and contained some easter eggs about Season 2.
After entering a greeting area where "Hosts" showed off outfits and weapons from the series while a Westworld welcome reel played, guests were taken to another area for "personality assessments," but passed a very familiar door on the way.
As you entered a hallway filled with clearly labeled doors, one has a different logo on it than the rest — an SW. If you listened closely, you could hear the sound of swords clashing and a wounded man grunting. If you saw the Westworld season finale, you definitely know where I'm going with this — Samurai World.
Guests had to wait in that area for a few minutes, so it seems like HBO really wanted us to notice this clue. Could that mean Samurai World will play a major role in Season 2?
After the personality assessment (which was scarily accurate, btw), guests were escorted to a holding area while we waited to enter the Mariposa Saloon, and that's when we saw the biggest clue: a glitch.
While we waited to enter the bar, a Host instructed us to watch a video. It started similarly to the generic welcome video, but quickly took a dark turn when the screen glitched and we started seeing flashes of bloodshed from the finale and scenes that definitely weren't in Season 1. The Man in Black's slow smile appeared in the video, and as it glitched, our host looked at us with a completely evil, terrifying smile.
When the video ended, she snapped back into her previous, courteous self.
This moment is actually very revealing because the Host who glitched wasn't someone from the Westworld park, but one of the greeters dressed all in white who help guests prepare for their trip. In Season 1, we only saw park Hosts begin to awaken and take up arms against humans, so this creepy moment may mean that the revolution is spreading to the others.
Similarly, one guest tweeted that while she was at the activation, a Host was escorted away by a member of the clean-up crew, who instructed someone to "clean up the blood."
If the rebellion is spreading to even these seemingly mild-mannered, modern Hosts, then the humans of Westworld are really in trouble next season.
After seeing a glitch for myself, I'm just glad that Westworld: The Experience is the closest I'll ever get to Dolores and her allies.