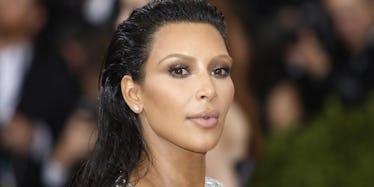 Kim K's Latest Update On How Much Baby Weight She's Lost Will Blow Your Mind
REUTERS
OK, first of all, major props to Kim Kardashian West for always being so open about her weight.
I mean, it's pretty brave of any woman to share a picture of her scale -- let alone the most heavily scrutinized woman in the country -- and Kim did it twice in the past month.
At the end of last month, the "Keeping Up with the Kardashians" star shared a photo of her scale on Snapchat, which showed she weighed 139.6 pounds.
She wrote in the caption her weight before giving birth to Saint West was 135 pounds.
Now, just over two weeks after her first progress update, it seems Kim has gotten back down to the weight she wants to be at.
On Friday, she shared another scale picture on her Snapchat, showing her weight is 135.8.
She caption the photo,
Yaaaassssss!!!! #Atkins
The Atkins thing is the carb-free diet Kim followed after she had both North and Saint.
So, that's 3.8 pounds in two weeks. Congrats, Kim!
According to E! News, Kim gained a total of 52 pounds during her second pregnancy. Now, after giving birth to Saint West back in December, she finally lost all of it.
It wasn't just depriving herself of delicious bread that got her there. She also hit the gym and worked out regularly. You know, the usual things oodles of money can buy.
Well, Kim, I think you looked great at both weights, but if 135 is where you feel your best, then I'm happy for you.
Citations: Kim Kardashian Reaches Post-Baby Goal Weight, Celebrates on Snapchat (E! News)