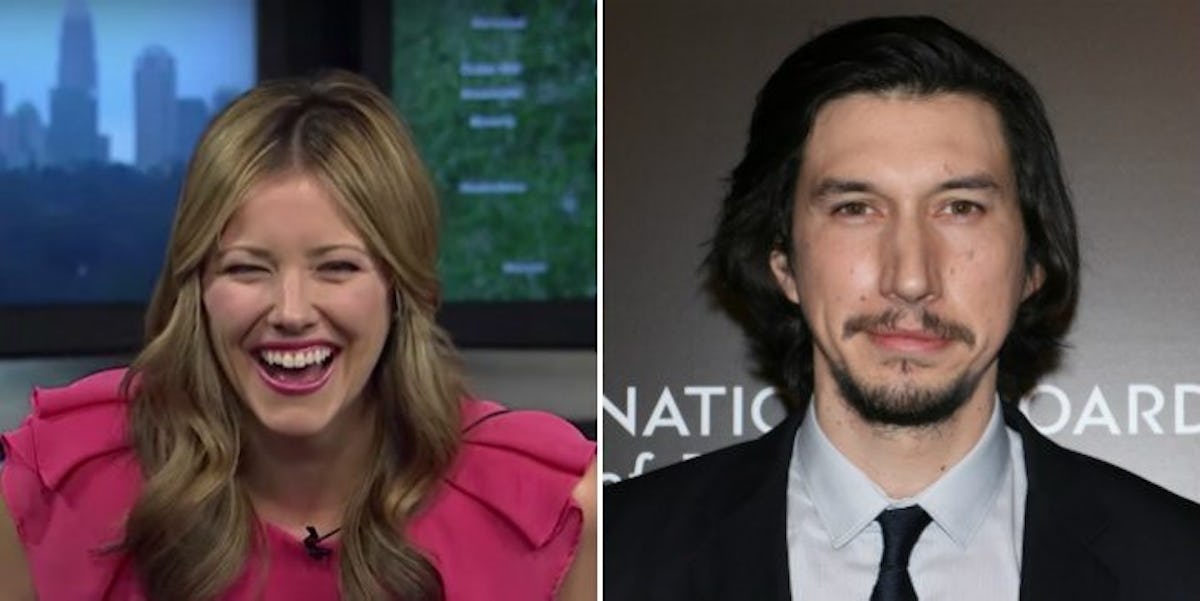 Weather Reporter Got Awkward Over Adam Driver And Couldn't Stop Giggling
YouTube/REX/Shutterstock
Who hasn't been caught up in a case of uncontrollable laughter?
Personally, this happens to me at least once a day, which is why I had to leave my job as a funeral director and start writing for Elite Daily.
I just get a bad case of the giggles... What can I say?
Kaitlin Cody, a meteorologist in Charlotte, North Carolina, experienced the giggles after a slightly embarrassing moment thanks to actor Adam Driver, and he wasn't even there when it happened.
The temperature in Hickory, North Carolina is nothing to laugh about, Kaitlin!
Get. It. Together.
The meteorologist found out that Driver was going to appear in a live Super Bowl commercial for Snickers this year. Cody called him:
...one of the funniest people on Earth, although I guess you have to watch the show 'Girls' to understand.
Then, she said Driver reminded her of her brother.
Her co-anchors took it the wrong way and assumed she had a crush on Driver THEN admitted he looked like her brother.
#Awkward.
Imagine being so embarrassed by your co-workers thinking you find your brother attractive that you break down when the rain is set to role in on different cities.
Of course she's cry-laughing. Cry-laughing is the only reasonable reaction a human being can have in such a situation...
Or if she's like me, literally crumpling to the floor and sobbing from shame, quitting your job, assuming a new identity like Faith Schreiver, moving across the country and starting your life anew.
This is a totally normal and healthy way to handle any emotional setback.
Hopefully, Kaitlin and her co-workers can overcome this issue instead of her having to disappear forever.
Maybe they'll learn never to bring up Adam Driver again, lest there be a repeat of the cry-laugh.
Citations: Weather forecaster is really, really excited for Adam Driver's Super Bowl spot (Mashable)