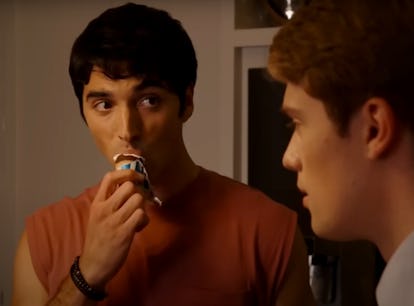 Red, White & Royal Blue Finally Released The Scene Book Fans Needed
Why wasn't this in the movie?!
Prime Video
A lot of beloved moments from the Red, White & Royal Blue book had to be cut from the movie due to time constraints, but the one fans were missing the most has finally been released. In Casey McQuiston's 2019 novel, Alex and Henry first start to bond over some Cornettos ice cream. The treat has become iconic to all RWRB fans, but unfortunately, it didn't appear at all in Prime Video's film adaptation. Now, fans can finally see the the iconic book moment brought to life, because Prime Video released the deleted Cornettos scene a week after the movie's premiere.
Cornettos are a vital part of the Red, White & Royal Blue fandom thanks to the British snack's role in first lighting the spark between Alex and Henry. That's why superfans were surprised when the movie totally ignored the soon-to-be couple's initial flirting moment while eating the ice cream cones. Turns out, the movie did film a version of the Cornettos scene, but it was cut from the final edit. Knowing just how important the exchange is to fans of the book, Prime Video did eventually release the Cornettos deleted scene.
The moment occurs after Alex and Henry's wedding cake debacle, just before they are scheduled to make various press appearances promoting their feigned friendship. While staying at Kensington Palace, Alex complains to Nora over FaceTime about how "insufferable" Henry is, which the prince overhears. As the two bicker, Henry chastises Alex for not taking their fake-friendship mission seriously, which prompts Alex to flex his social media muscles by taking a picture of the Cornettos box Henry had just pulled from the fridge. "Nothing goes better with leftover cake than ice cream with my good pal," Alex captions the pic, which he nonchalantly remarks gets 14,000 likes in two seconds.
Director Matthew López previously confirmed to Teen Vogue that the Cornettos moment is just one of many deleted scenes from Red, White & Royal Blue, which had to be cut due to runtime. López clarified that the Cornettos scene in particular was removed from the movie because he felt it messed with the pacing of Alex and Henry's enemies-to-lovers romance.
"Weirdly, the Cornetto scene actually relieved some of the tension between them," López explained. "I was like, look, if you take the Cornetto scene out, then the tension from that first scene remains when they go into the interview scene. ... The Cornetto scene is charming. But we also understood, narratively speaking, it was unnecessary. And more to the point, it sapped the tension out."