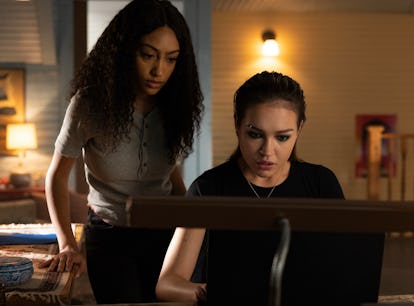 The Cruel Summer Finale Teaser Hints At What Really Happened To Luke
Freeform
The sun's about to set on Season 2 of Cruel Summer, which means it's time for the truth to finally come out. All season long, fans have been caught up in the incredibly confusing mystery of who killed Luke Chambers. It really has seemed like at every other turn the show made, any of the main characters could have feasibly been the killer. But the theories stop now, because the promo teaser for the Cruel Summer Season 2 finale provides a first glimpse at what really happened to Luke.
Spoiler alert: This post discusses events in Cruel Summer Season 2 through Episode 9. It's fitting that the teaser for the finale episode would be the most explosive of the entire season. So many twisted details are revealed in the first-look clip — most notably, Megan is shown getting arrested and charged with Luke's murder. Of course, that doesn't mean she's actually the killer, but it could be foreshadowing that Season 2 might end in the same way Season 1 did.
Even more eyebrow-raising are the various shots of Luke's father, Steven, in the trailer. At one point, Brent shouts at him, "You're ruining an innocent person's life." While the context for that line isn't given just yet, it definitely sounds like both Brent and Steven know what actually happened to Luke and are framing Megan for his murder. There's also a suspicious shot of Steven running in the woods. Hmm...
But it's the last split-second of the teaser that's most important of all, as a person suddenly shoots out of the lake where Luke drowned. It's hard to make out who it is, but it definitely looks like it could be Brent... or even Luke himself. Could that theory that Luke never really died end up being true? Check out the Season 2 finale teaser for yourself below.
All your questions will finally be answered when the Cruel Summer Season 2 finale airs Monday, July 31 at 9 p.m. ET on Freeform, and streams the next day on Hulu.